Live your best outdoor life with our deck builder services for your home in Plano, Mckinney, Frisco, And More Of Collin And Dallas Counties, TX.
Scroll to discover deck building options, process, and pricing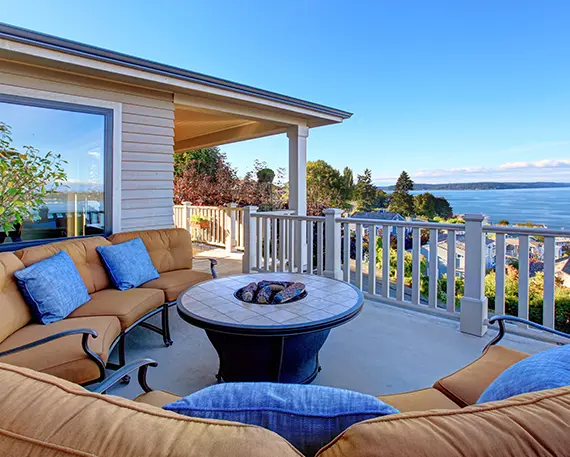 Expand Your Space With A Deck Tailored To Your Lifestyle
Picture yourself savoring a Sunday barbecue with friends, watching your favorite game on your deck entertainment center, or cuddling by the fire in the evening with your loved one. With us, your dream deck becomes a reality.
At McKinley Construction Management, we build decks for people who want quality alone time or more heartfelt family gathering.

From the first consultation to the stunning final result, we take care of every step with meticulous attention to detail.  All you have to do is share your perfect deck vision with us.
With our deck builder service, you can enjoy:
A Deck Built Around Your Lifestyle
When it comes to your home, there is no "one-size-fits-all" type of thing. We each like to do things differently, and while some of our past customers loved making weekly barbecues on their decks, others just wanted to bask in the sun or enjoy a glass on wine in their outdoor hot tub.
Before we actually build your deck, we take the time to understand how you plan to you use this space. Whether you already have your own deck design ideas or need help imagining a deck from scratch, we have the knowledge and resources to meet your needs.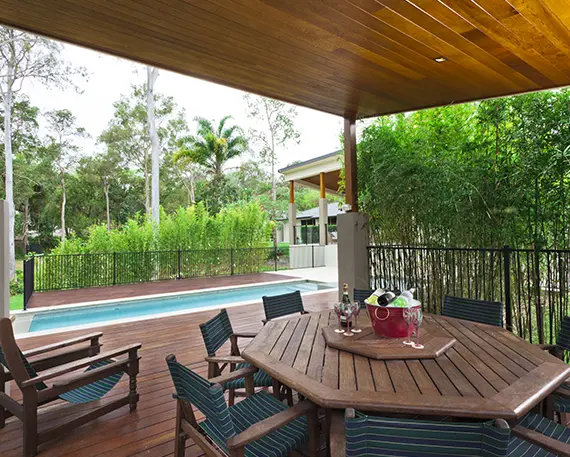 Complete Your Home With A Custom Deck
Q&A From Your Deck Builder
Choosing the right design for your deck is made easy with McKinley Construction Management. Our expert designers will guide you through the process, starting with an initial consultation.

We'll listen to your ideas, consider your preferences, and present you with a range of design options. With our expertise and attention to detail, we'll create a deck that complements your home, suits your style, and enhances your outdoor living experience.
We understand that you're eager to enjoy your new deck as soon as possible. We strive to complete your deck construction efficiently without compromising on quality. On average, the active construction phase for building a deck typically takes around 4 to 5 days.
Rest assured that our experienced team will work diligently to complete your deck within the agreed-upon timeframe. We prioritize open communication and will keep you informed about the progress of your project every step of the way.
Determining the size of your deck involves considering factors such as the intended use, available outdoor space, traffic flow, and potential future needs. So ask yourself the following question: "how many people do I want my deck to hold?"
Our expert designers at McKinley Construction Management can assess your requirements and suggest an optimal deck size during a consultation.
The average lifespan of a deck typically ranges from 10 to 18 years. However, it's important to note that the actual lifespan can vary depending on several factors.

Factors such as the type of materials used, the quality of construction, maintenance practices, exposure to weather conditions, and usage frequency can all impact the longevity of your deck.
Yes, you can definitely build a deck on uneven ground. In fact, decks are a great solution for creating a level outdoor living space on uneven terrain.

Building a deck on uneven ground requires careful planning and the use of specialized construction techniques. Our experienced team will assess the topography of your site and work to create a level and stable foundation for your deck.

This may involve using adjustable deck supports, leveling techniques, or even building retaining walls, depending on the severity of the slope.

We have the expertise to design and construct decks on various types of landscapes, including uneven ground.
Yes, you will need a permit to build a deck in Texas. Rest assured as McKinley Construction Management will guide you through the necessary steps of filing and obtaining permits for your new deck project.
Deck Builder Costs In Texas
Regardless of the complexity of your project, we're here to make it happen. We'll listen intently and won't settle until we meet or exceed your expectations. 3D design is included so that you can visualize your new deck before we get to work.
Before
After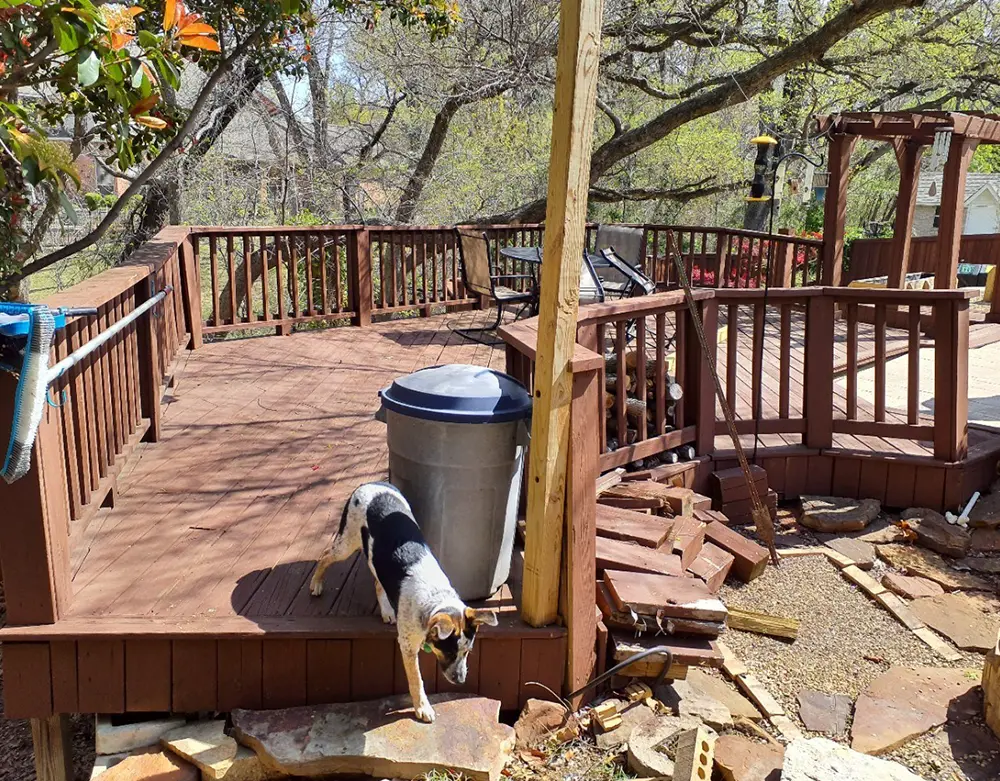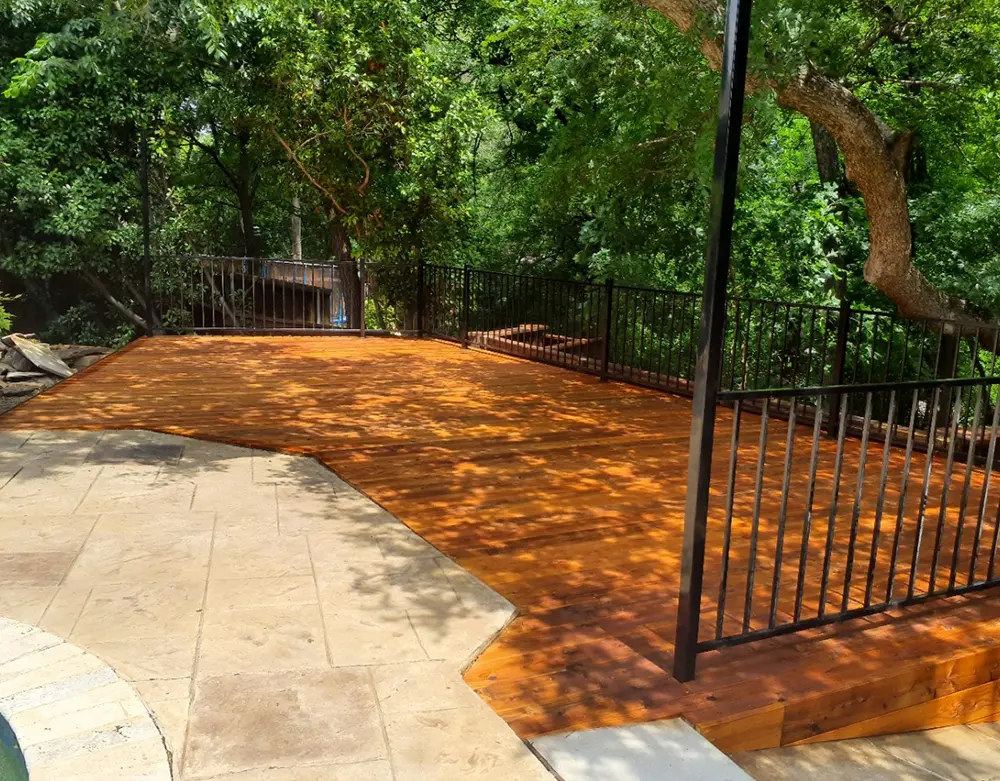 500 sq. ft. Deck Build in Garland, TX
This custom deck building project included:
This deck was quoted at $58k, where the premium cedar deck top material alone was $5k.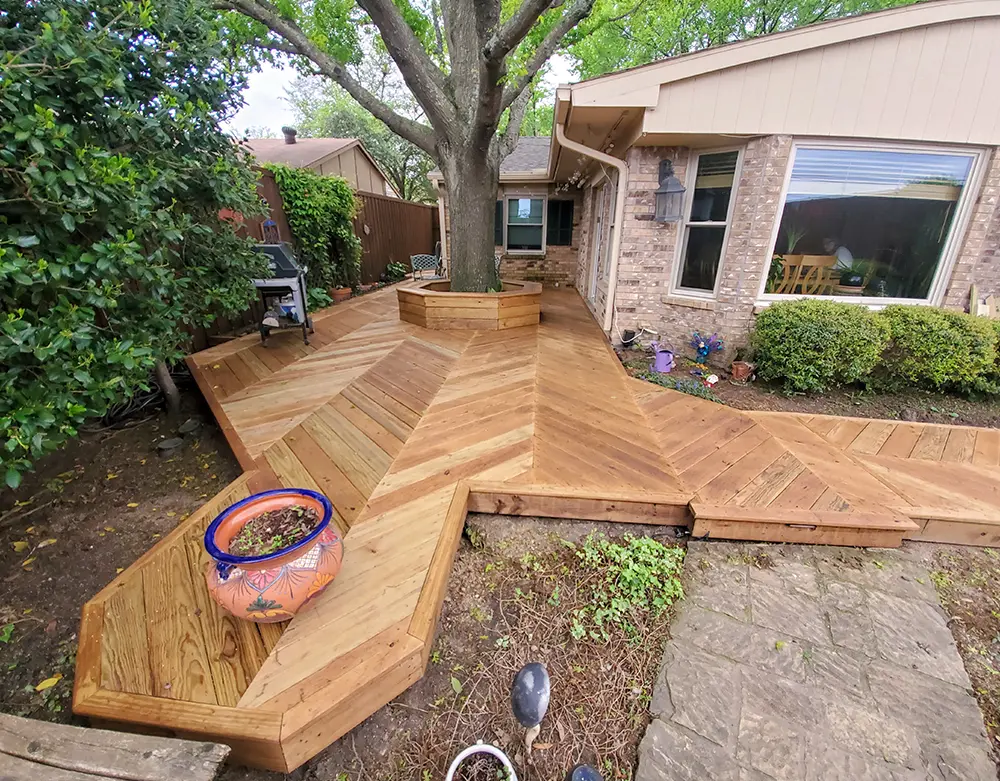 900 sq. ft. Deck Build in Allen, TX
This custom deck building project included:
This deck was quoted at $75k, where the intricacy of the herringbone pattern upgrade alone was $7k.
Before
After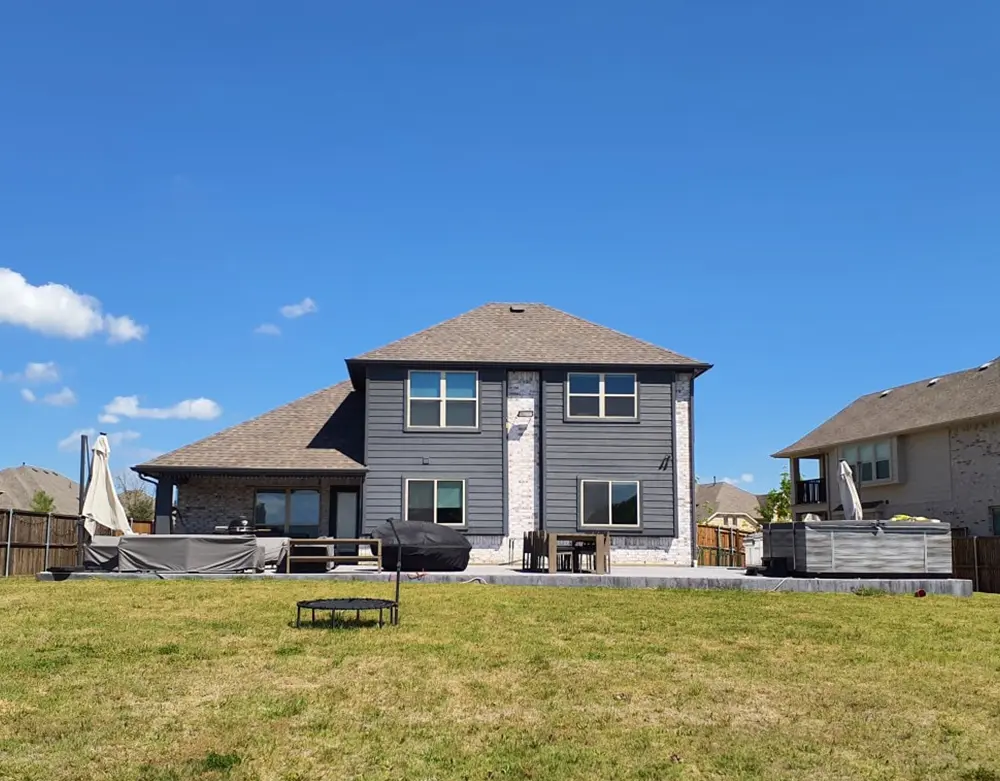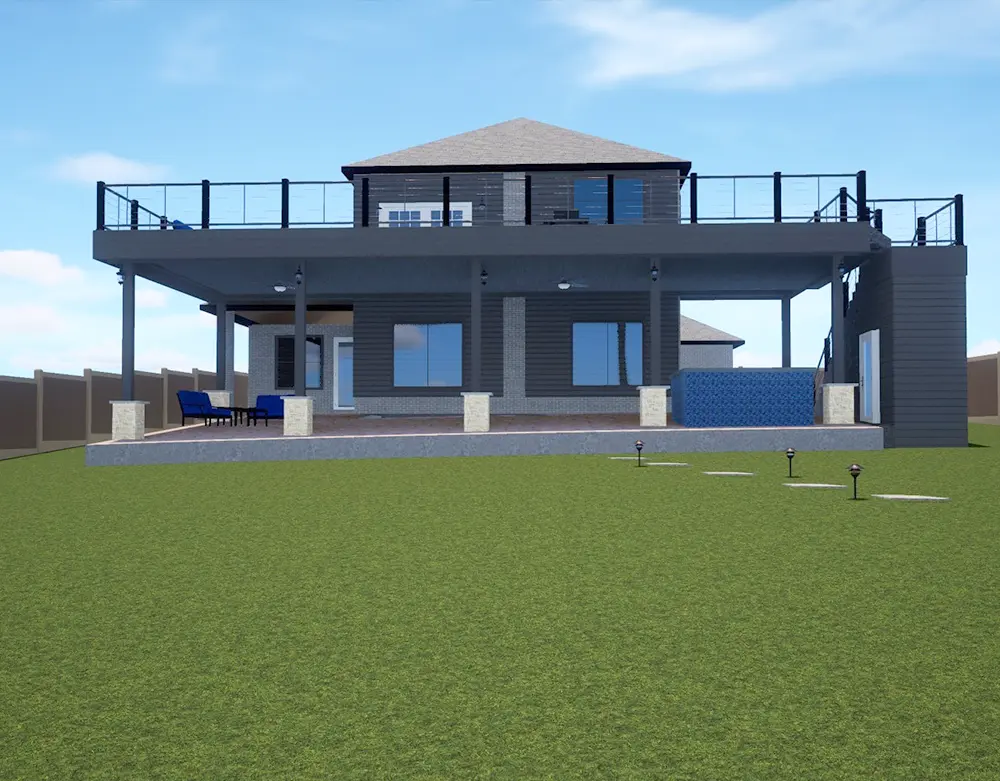 1,200 sq. Ft. Deck Build In Aubrey, TX
This custom deck building project included:
This deck was quoted at $150k, where the Trex decking material upgrade and waterproofing the first floor alone were $37k.
1 Dream Deck, 3 Easy Steps
We believe in keeping things simple and transparent when building your deck. Our efficient process ensures clear communication and understanding every step of the way. We pay close attention to detail and make the entire experience hassle-free for you.

Schedule a consultation and we'll talk to you about everything you want your deck to be, while providing transparent price estimates.

Using the high-quality materials, we build your deck in a timely manner while considering all the design elements you want to incorporate.

Join us in a final walkthrough for your new deck. After we leave, start planning your next family get-together on your beautiful deck.
A Word From Our Past Customers
we are more than happy to share examples of our successful projects, giving you the confidence to choose us as your trusted deck builder.
McKinley Construction did a fantastic job with our pergola. The quality of the work was excellent, but the best part is they truly care about the customers. Cody will not stop until you are happy and is extremely knowledgeable. Highly Recommend!
Cody and Chris were awesome to work with. Constuction was timely on our screened in patio. Framing, screens, fans, Fans, hung my porch swing it's a beautiful place to hang out. I will call MCM again if I need any additional improvements.
Owner Cody and his team of professionals created a Beautiful backyard living space for my wife and I. Complete with a brand new slab patio, pergola and stone fire pit. They did an amazing job and provided excellent customer service.
Spend More Time With Your Loved Ones On Your New Deck