Equip Your Outdoor Kitchen With Kegerators, Premium Countertops & Grills, Outdoor Fridges, Side Burners, And More. Serving Plano, Mckinney, Frisco, And More Of Collin And Dallas Counties, TX.
Scroll to discover outdoor kitchens options, process, and pricing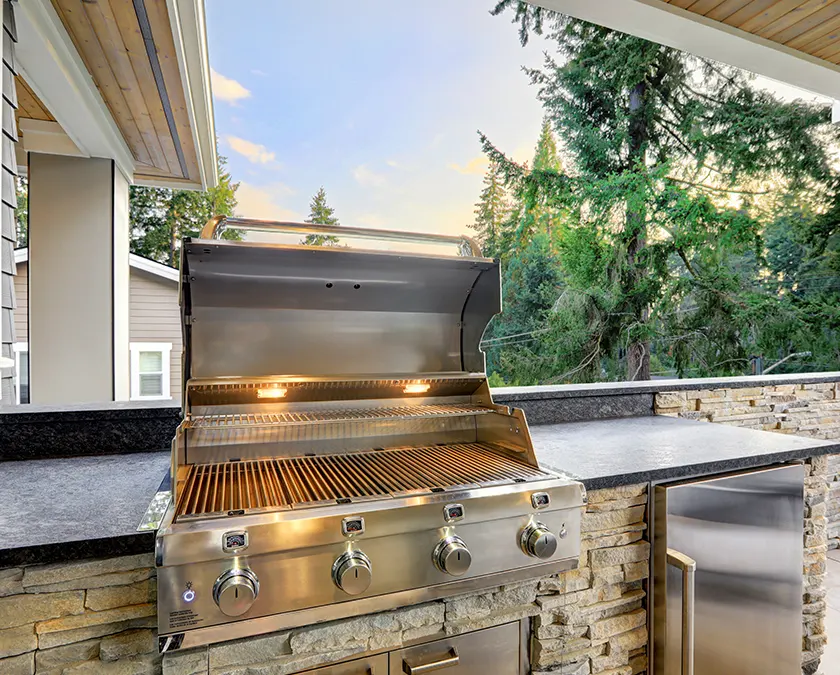 Redefine Your Grilling Experience
You spend a lot of time and energy making your home what you want, so it's important to make sure its features match your needs, inside and out.
With an outdoor kitchen, you won't have to run back and forth from inside your home to your backyard during summer barbecues or when hosting guests – you can take care of everyone in one place.
When it comes to cooking, being able to serve and enjoy food comfortably outside is a dream for many. We're not just talking about a generic table, some chairs, and a standalone grill. Redesign your backyard as an outdoor kitchen equipped with everything you need.
Here are the most popular outdoor kitchen features and upgrades you can enjoy:
Your Own Private Restaurant That's Always Open
You probably know that the secret to every get-together is delicious food and meaningful interaction.
An outdoor kitchen is a perfect way to serve guests fresh and savory dishes. As the heart of your outdoor kitchen, your grill will give any food an incredible flavor. Complement the mouth-watering aromas with fresh drinks from your own private bar, and your unique at-home dining experience will be complete.
We'll help you build a state-of-the-art outdoor kitchen for unforgettable moments of relaxation, laughter, and fun.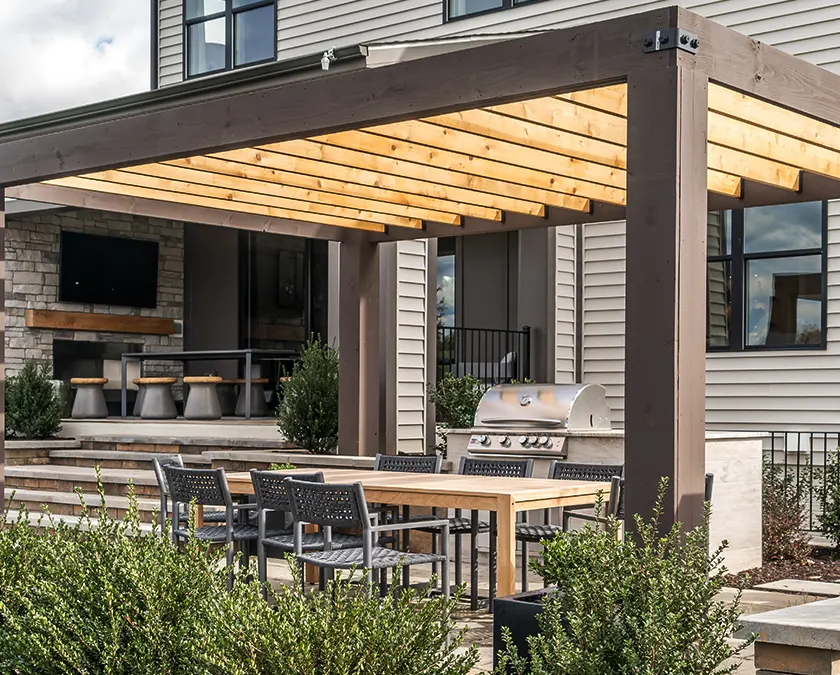 Determining the best location for your outdoor kitchen involves making it convenient for the party and ensuring easy access to the indoor kitchen. Placing it near the socializing and dining areas allows for seamless interaction with guests while preparing food.

Building the outdoor kitchen in close proximity to the indoor one simplifies ingredient and utensil transportation, making cooking and entertaining more efficient and enjoyable.
The cost of building an outdoor kitchen can vary depending on several factors such as the size, complexity of design, materials used, and additional features or appliances desired.
Our outdoor kitchen projects typically start at around $13k to $15k, but it's important to note that the final cost will depend on your specific requirements.
While it's natural to have a budget in mind, it's important to consider the long-term value and enjoyment an outdoor kitchen can bring to your home.
Investing in a well-designed and professionally built outdoor kitchen can enhance your outdoor living experience, increase your home's value, and provide a space for entertaining and creating lasting memories.
We can have your outdoor kitchen ready in 3 to 5 days of active construction. This timeframe may vary depending on the complexity of the design, the size of the outdoor kitchen, and any additional features or customizations.
Our dedicated team prioritizes efficiency without compromising quality. We work diligently to complete your outdoor kitchen within the agreed-upon timeframe, ensuring that you can start enjoying your new space as soon as possible.
Yes, an outdoor kitchen can be built on an existing patio or deck. If you already have a patio or deck in place, it can serve as a solid foundation for your outdoor kitchen project.
Building an outdoor kitchen on an existing structure offers convenience and can save both time and costs.
One of the best ways to keep your outdoor kitchen in excellent condition is to use it frequently! Regularly cooking and using your outdoor kitchen helps prevent issues caused by lack of use and keeps the equipment and surfaces clean and functional.
Following proper cleaning and maintenance practices, such as regular wiping down, deep cleaning as needed, and protecting surfaces from the elements, will help preserve your outdoor kitchen's appearance and functionality for years to come.
To ensure a functional outdoor kitchen, you'll need a minimum space of at least 8 feet long and 3 feet deep. This provides enough room for essential components such as countertops, appliances, storage, and workspace.
However, depending on your specific needs and desired features, you may require additional space. Considering the available area and layout of your outdoor space, our expert team can help determine the optimal size and configuration for your outdoor kitchen.
Pricing For Your Outdoor Kitchen In Texas
Regardless of the complexity of your project, we're here to make it happen. We'll listen intently and won't settle until we meet or exceed your expectations. 3D design is included so that you can visualize your space before we get to work.
Before
After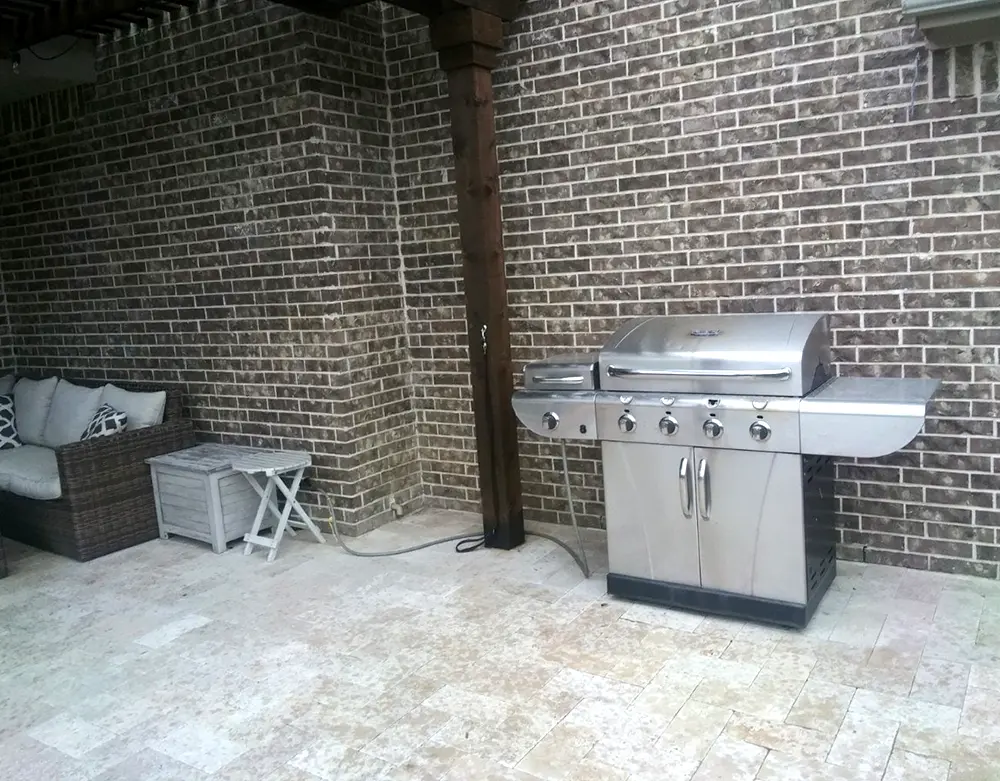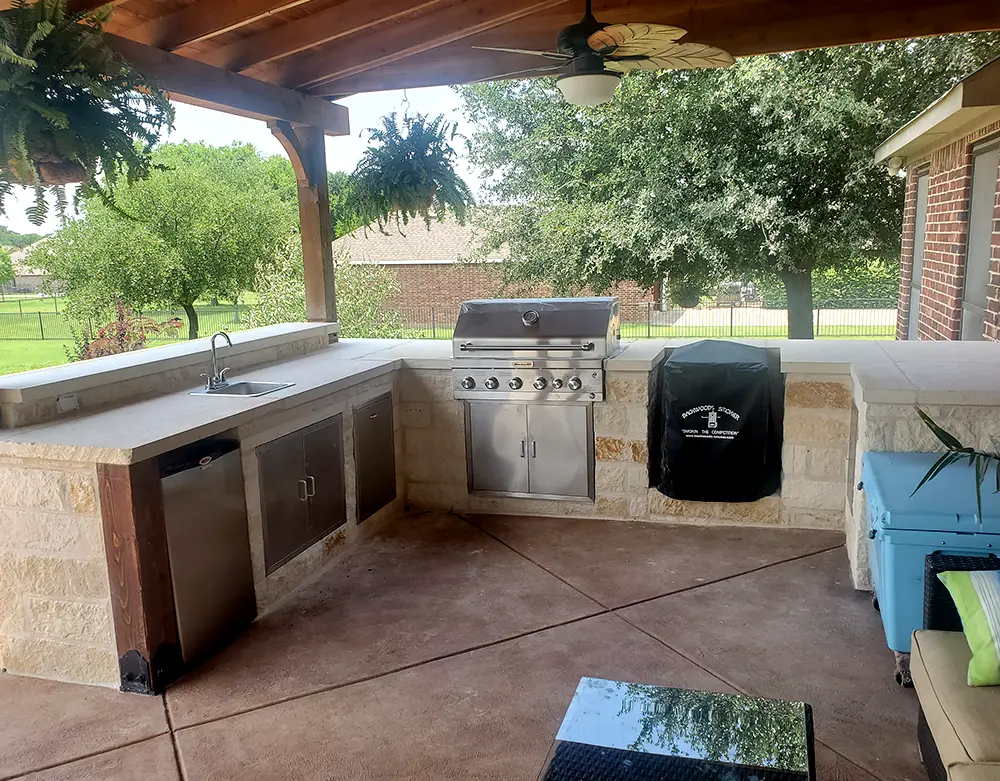 23 Ft. Long Patio & Outdoor Kitchen In Celina, TX
This outdoor kitchen project included:
The project was quoted at $23k, where the bar top addon and sink for the wet bar alone were $11k.
Before
After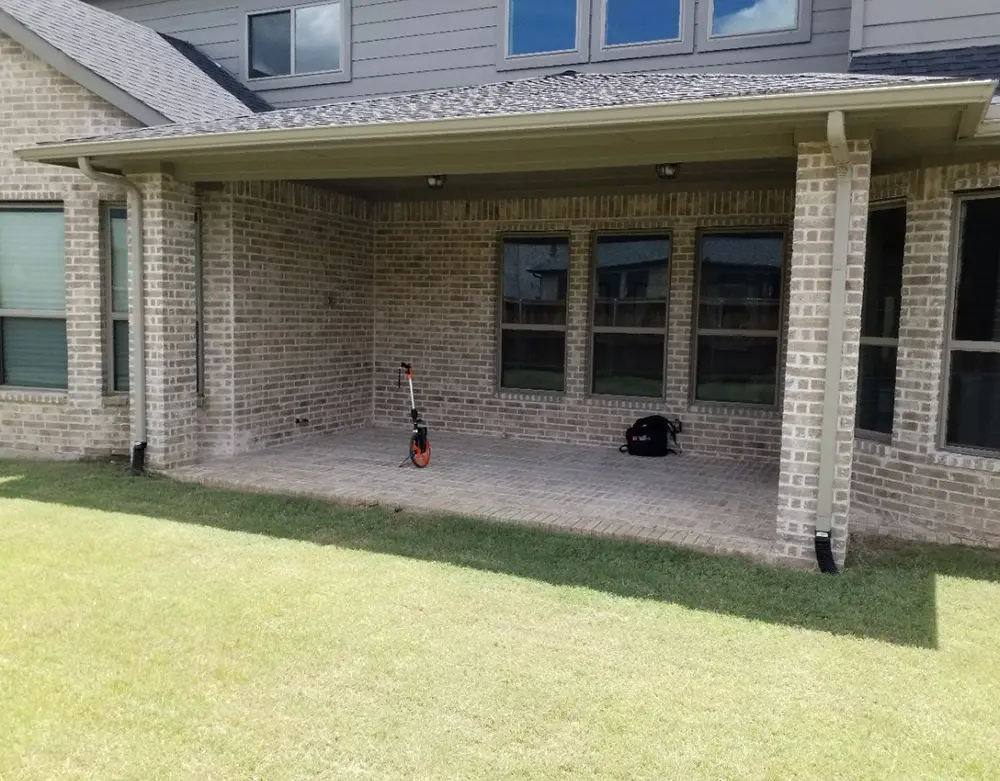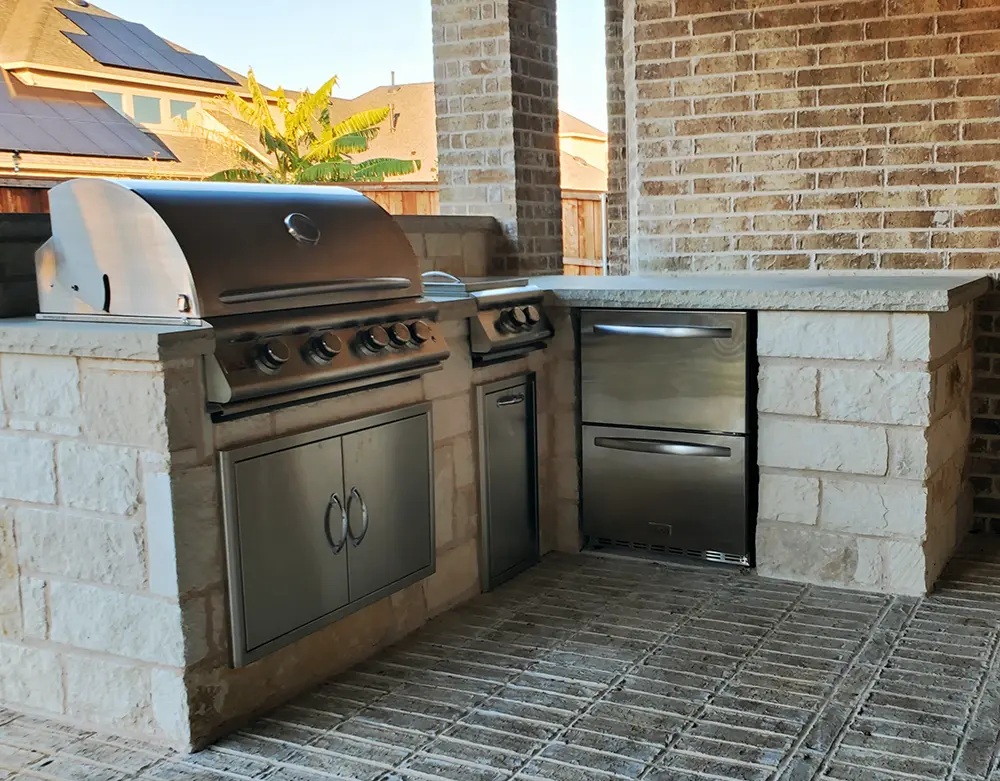 15 ft. Outdoor Kitchen In Frisco, TX
This outdoor kitchen project included:
The project was quoted at $24k, where the appliances and bar top alone were $8k.
Before
After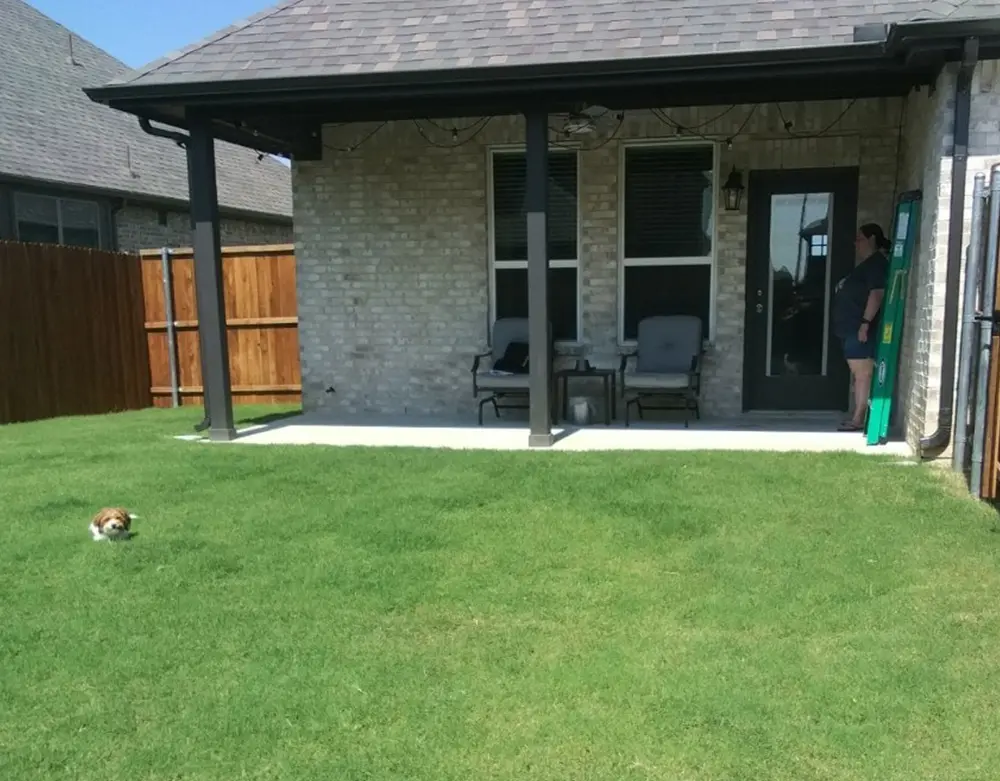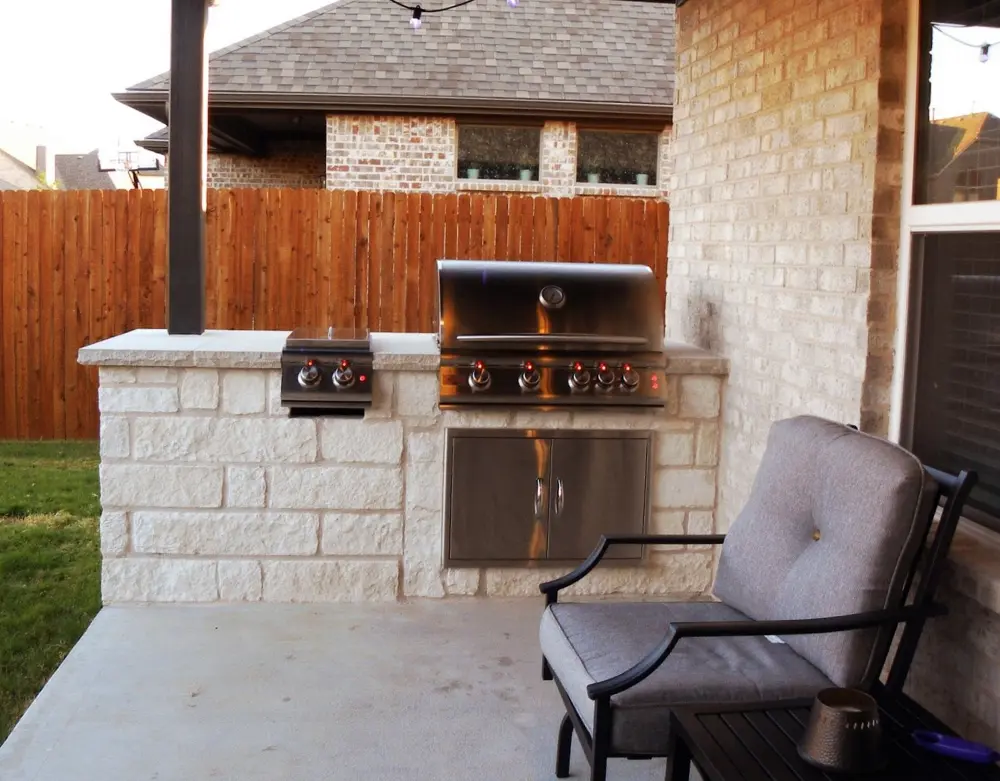 8 ft. Outdoor Kitchen With Firepit In Frisco, TX
This outdoor kitchen project included:
The project was quoted at $19k, where the appliances and fire pit alone were $8k.
Need Financing? We Got You Covered.
You should have the opportunity to renovate your home and make your vision come to life without waiting for years because funds are tight. If you've wanted to show your home some love for a while but haven't taken the first step because of finances, get in touch with us. We have 0% financing solutions to help make your project happen.
Your Outdoor Kitchen In 3 Easy Steps
From the moment you reach out to us, we'll make it an unforgettable experience. Here's how it all works:

When you're ready for your outdoor kitchen, give us a call and share with us your vision. We'll provide you with ballpark pricing and schedule an in-home consultation.

To bring your project to life, we'll start with designing your space using advanced 3D software. Once the design is complete and you're happy with every detail, we'll get to work.

When your project is finished, you'll have the chance to make sure everything looks exactly as you imagined. All that's left is to invite all of your friends and loved ones to enjoy your outdoor paradise.
Here's What Our Customers Say…
To give you an idea of the quality service you can expect, please take a look at some of our client reviews.
McKinley did a fantastic job on the expansion of our patio and construction of our outdoor kitchen!
Excellent work, very satisfied. Cody was a please to work with.
Very professional and quality work. Would recommend and would use again.