Outdoor Kitchen Island Installation In Plano, Mckinney, And More Of TX
Enjoy stress-free outdoor kitchen installation services in Plano, McKinney, Frisco, Carrollton, Lewisville, and more of Greater North Texas.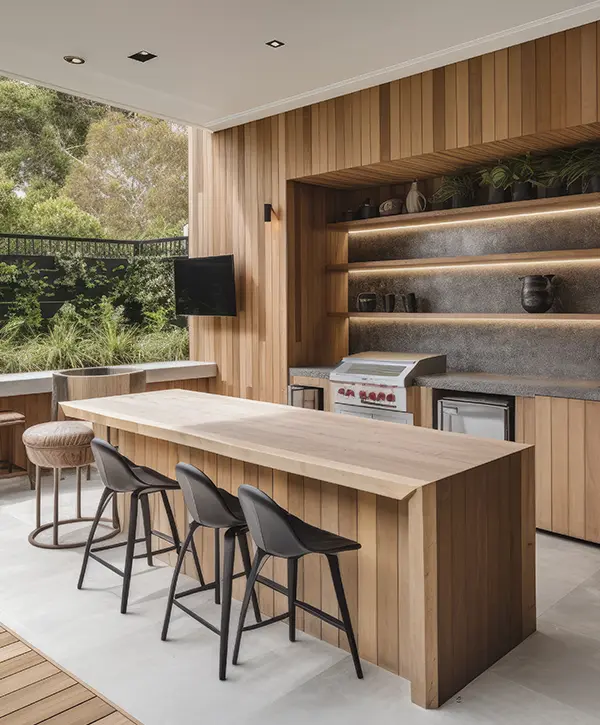 If you dream of a beautiful outdoor kitchen island that will elevate your outdoor entertaining experience, you've come to the right place. 
Our team specializes in designing and installing custom outdoor kitchen islands that combine style, functionality, and durability.
From built-in grills to ample counter space and storage solutions, we have the expertise to bring your vision to life. Join countless homeowners across Greater Northern Texas who have transformed their outdoor spaces with our exceptional craftsmanship.
What You Need To Build An Outdoor Kitchen
Creating a comprehensive outdoor kitchen involves incorporating various elements to make it functional, convenient, and visually appealing. Here are the key components commonly included in an outdoor kitchen installation.
The BBQ or grill island is the heart of any outdoor kitchen. It offers homeowners the joy of cooking and grilling in the great outdoors. Grills come in different sizes, types (gas, charcoal, electric), and styles to suit various cooking preferences. Gas grills, for example, can be connected to the home's gas line or fueled by a propane tank.
An outdoor sink is valuable to an outdoor kitchen as it provides a convenient water source for cleaning utensils, prepping food, and maintaining hygiene. It allows homeowners to handle tasks such as washing fruits and vegetables or rinsing off dirty dishes without having to go inside the house.
In addition to the grill, outdoor kitchens often feature other cooking appliances to enhance culinary options. These can include side burners, pizza ovens, smokers, or rotisseries. Incorporating a variety of cooking appliances expands the versatility of the outdoor kitchen and enables homeowners to prepare a wider range of dishes.
Ample storage space is essential in an outdoor kitchen to keep cooking utensils, grilling accessories, and other necessary items organized and easily accessible. Storage cabinets, drawers, and shelves can be integrated into the design to provide convenient storage solutions.
A designated food preparation area within the outdoor kitchen ensures efficient meal preparation. It can consist of a countertop or food prep station where homeowners can chop ingredients, assemble dishes, and perform other food-related tasks.
Appropriate lighting is crucial for both practicality and ambiance. Incorporating adequate lighting fixtures, such as overhead, task, or accent lighting, allows for safe and enjoyable outdoor kitchen use during evenings and nights.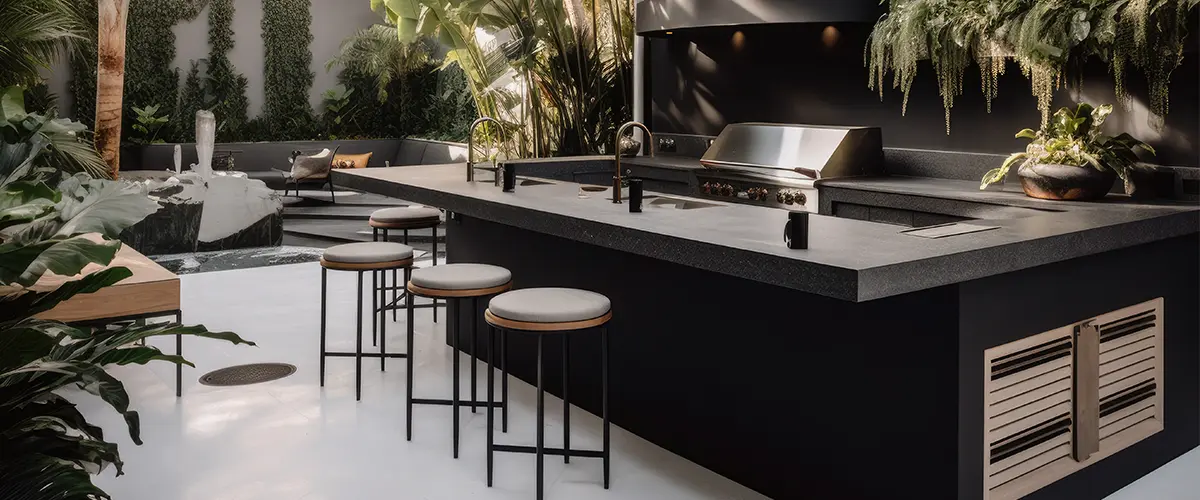 At McKinley Construction Management, we install appliances and features of your choice, so you can enjoy your time outdoors as you fire up your gas or charcoal grill.
Why Plano Homeowners Love Us
Cody and Mike were great! They were timely, very helpful and professional! They asked what I was looking for and offered several options and price points to help me achieve that desired project.
I asked for their suggestions and ideas to help improve my space as well and really liked their ideas. They were able to show me sketches of potential for my space on site as we discussed them. On top of that, they were fun to work with!
I would highly recommend them!
Thomas Altman is very approachable , he worked out of his regular schedule and worked with us at our convenient time in the evening so that me and my husband could sit together meet him and discuss various options.
He explained to us the process with good patience without rushing through providing us not one but different options / models to bring down the cost to near our budget. We are very happy with his service.
Benefits of Having An Outdoor Kitchen Island
Having an outdoor kitchen island in your outdoor living space brings numerous benefits that enhance your cooking and entertainment experience.
By incorporating an outdoor kitchen island with cooking appliances, storage solutions, and customization options, you transform your outdoor space into a functional and inviting area for outdoor cooking and entertainment.
By installing an outdoor kitchen island, you effectively expand your usable outdoor space. It creates a dedicated cooking, dining, and entertaining area, allowing you to fully utilize and enjoy your outdoor living space.
Versatile Cooking Options
An outdoor kitchen island provides a platform to install various cooking appliances, including built-in grills, charcoal grills, and propane grills. This gives you the flexibility to choose the cooking method that suits your preference and allows you to experiment with different flavors and techniques.
Convenience and Efficiency
With an outdoor kitchen island, you can avoid the hassle of constantly running back and forth between your indoor kitchen and outdoor space. Everything you need for outdoor cooking, from the grill to other outdoor appliances, is readily available. This convenience saves time and effort, making outdoor cooking a seamless and enjoyable experience.
Integrated Storage Solutions
Outdoor kitchen islands typically have built-in cabinets and storage options. These cabinets provide ample space to store cooking utensils, grill accessories, propane tanks, and other supplies. With properly installed cabinet doors, you can keep everything organized and protected from the elements.
Building an outdoor kitchen island allows you to customize the design according to your preferences and needs. You can choose the layout, materials, and finishes that complement your outdoor space and reflect your personal style. Whether you prefer a DIY outdoor kitchen or hire professionals, you can create a unique outdoor cooking area that suits your vision.
An outdoor kitchen island becomes the focal point of outdoor gatherings and social events. It provides a centralized space for cooking, allowing you to interact with your guests while preparing meals. The combination of delicious aromas, sizzling grills, and the lively ambiance created by an outdoor kitchen island elevates your entertainment experience and encourages a relaxed and enjoyable atmosphere.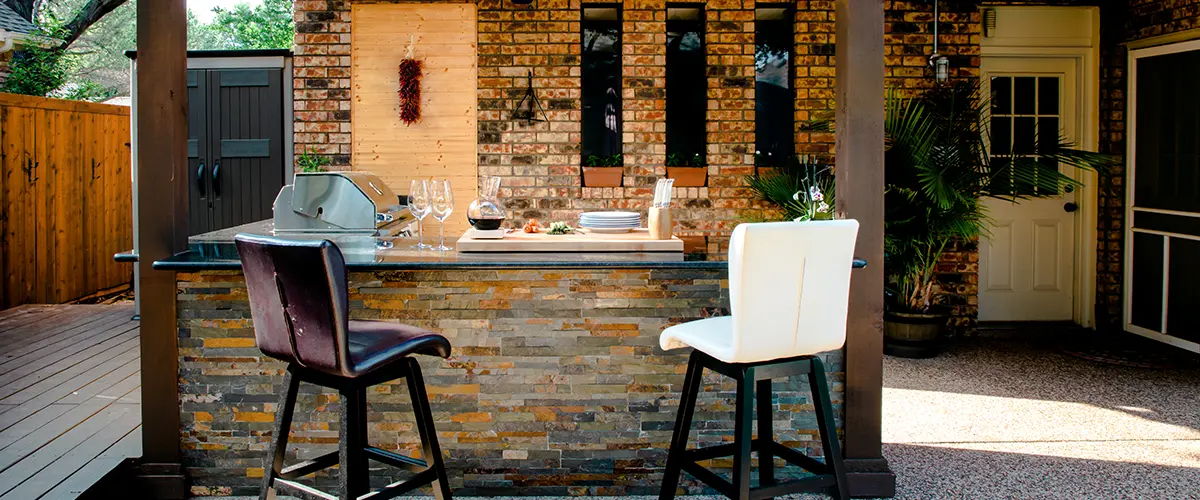 Contact us today to learn why Texas homeowners love us and how we can install outdoor kitchens to make your entire backyard an amazing living space for you and your entire family.
How We Install Your Outdoor Kitchen Island
At McKinley Construction Management, we want to ensure that your outdoor kitchen island installation is a smooth and successful process. Here's a simple 6-step guide on how we install your outdoor kitchen island.
We start by having a detailed consultation with you to understand your outdoor kitchen needs, preferences, and budget. Together, we will design a customized outdoor kitchen island that fits your space and meets your specific requirements.
Once we finalize the design, we will prepare the installation site for your outdoor kitchen island. We'll clear the area and ensure proper leveling to create a solid foundation for your island.
Our skilled team will construct the framework of your outdoor kitchen island using sturdy and durable materials. This framework will serve as the backbone, supporting your appliances, cabinets, and other components.
We will install the appliances you've chosen, such as your preferred built-in grills (charcoal, gas, or other types) and other outdoor cooking equipment. Additionally, we'll carefully install storage cabinets, ensuring that you have ample space to store utensils, cookware, and all your kitchen essentials.
To enhance the overall look and feel of your outdoor kitchen island, we'll apply suitable finishes like stone veneer or other materials that you desire. We'll also make sure that your island provides adequate counter space for convenient food preparation and serving.
Before we wrap up the installation, our team will conduct a thorough inspection to ensure that everything is in place and meets our high standards of quality. Once we're satisfied with the results, we'll consider your outdoor kitchen island installation complete and ready for you to enjoy.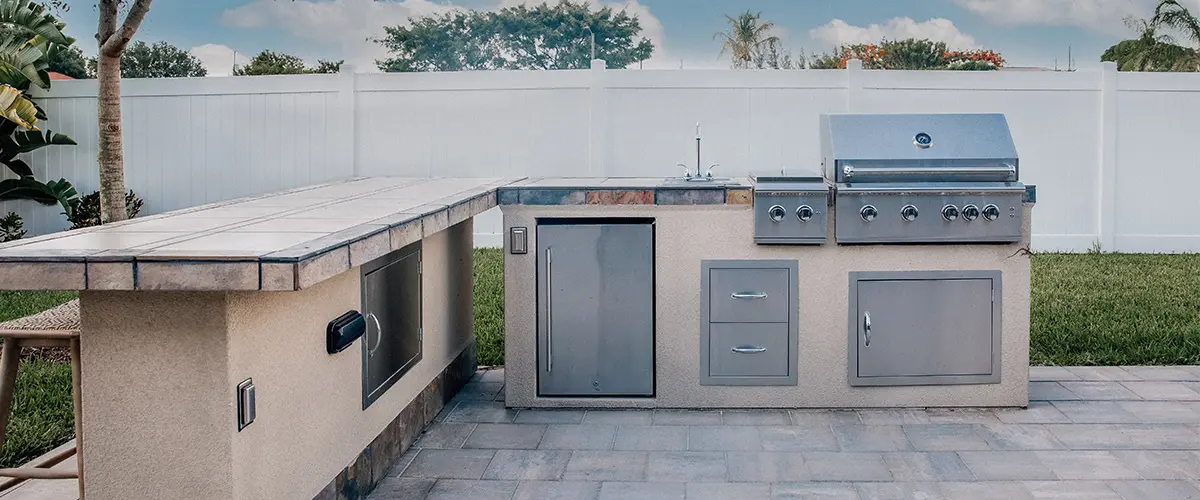 Let us handle the installation process, and we'll transform your outdoor space into a functional and inviting area where you can cook, entertain, and create lasting memories.
Want An Outdoor Kitchen That Looks Like This?
Outdoor Kitchen Island Installation FAQs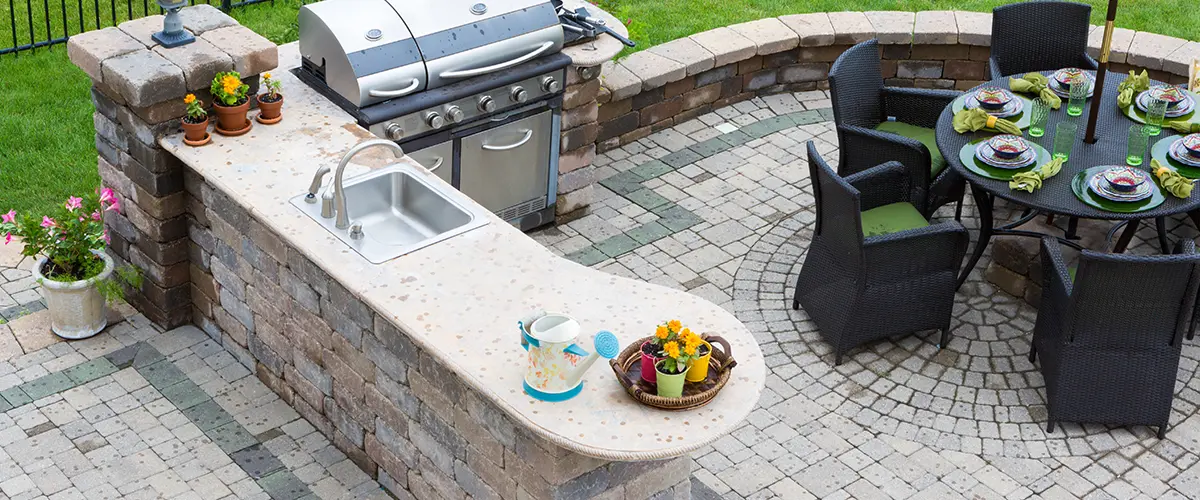 Contact The Outdoor Living Experts in Greater North Texas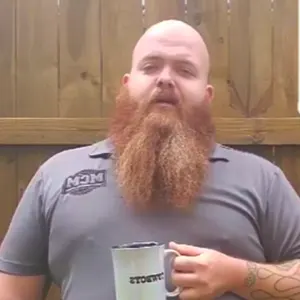 Call us today at (469) 583-6213 to talk about your ideal outdoor kitchen installation and make the most out of your outdoor space. You can also message us and let our experts bring your vision to life! Don't miss out on the opportunity to create a perfect outdoor oasis for cooking, entertaining, and making lasting memories.