250+ Outdoor Living Spaces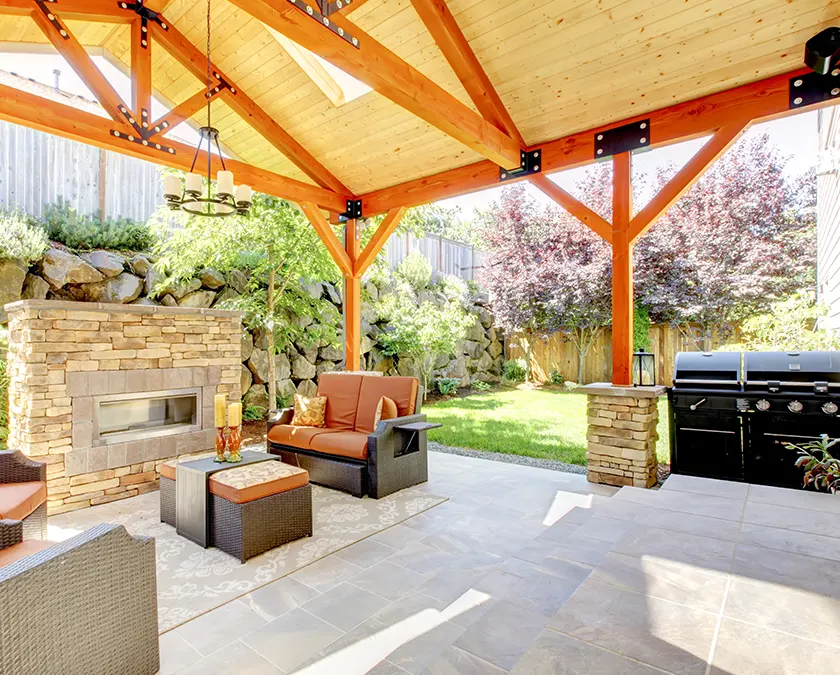 Upgrade Your Home With An Amazing Outdoor Living Space
The outdoors is a great place to spend time and reconnect with loved ones. A multi-functional outdoor living area can help you do both from the comfort of your home.
From working on projects, gathering friends or family members for an event in your backyard, to relaxing in private – the possibilities are endless.
No matter the season, you can elevate your home and enhance your way of living. All that's left is to enjoy quality moments with the people you care about.
Here are the most popular outdoor living space upgrades:
An Inviting Space For The Whole Family To Enjoy
In a world where we are constantly on the go, it can be hard to find the time for friends and family. We often prioritize work or other obligations over spending one-on-one moments with those who matter most in our lives.
A functional outdoor living space is more than an addition to your backyard. It's a beautiful place that encourages you to live in the present, enjoy fresh air, and take in the simple joys of life.
It's time to create a unique spot where you can savor great conversations, family meals, and make long-lasting memories.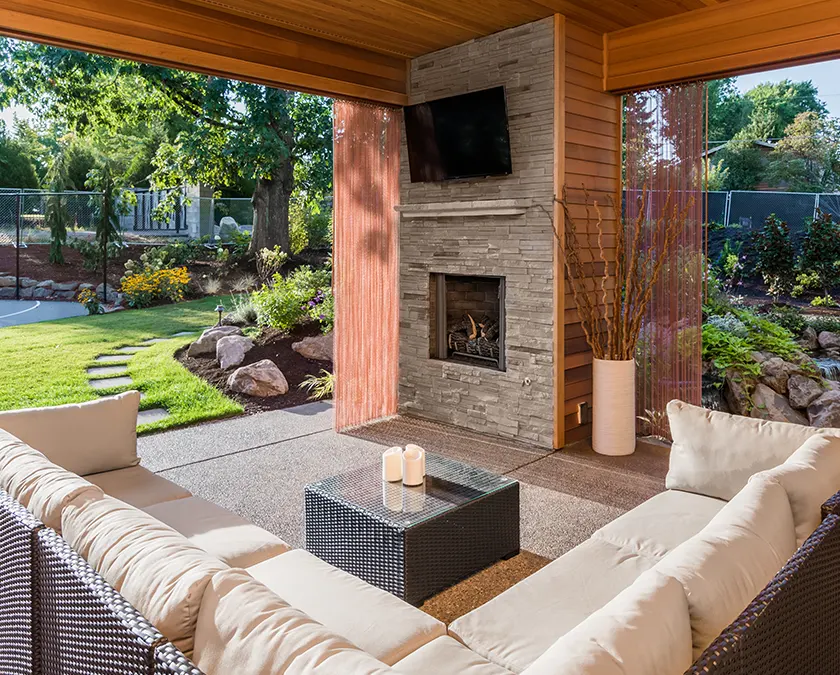 The Easiest Path To Your Outdoor Living Space
From the moment you reach out to us, we'll make it an unforgettable experience. Here's how it all works:

When you decide to improve your outdoor space, give us a call. Share with us your vision of your ideal outdoor living space. We'll provide you with ballpark pricing and schedule an in-home consultation.

We'll start building your outdoor living space as soon as possible. We are efficient, have an eye for detail, and will address any concerns you have. That way you are always comfortable during the entire process.

When your project is finished, you'll have the chance to make sure everything looks exactly as you imagined. All that's left is to invite all of your friends and loved ones to enjoy your outdoor paradise.
Outdoor Living Spaces Prices
Regardless of the complexity of your project, we're here to make it happen. We'll listen intently and won't settle until we meet or exceed your expectations.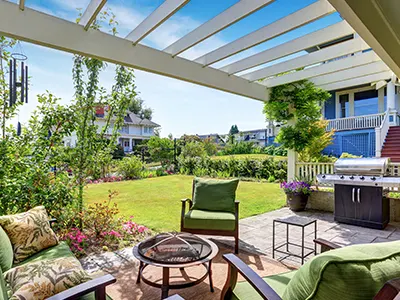 Basic Outdoor Living Space*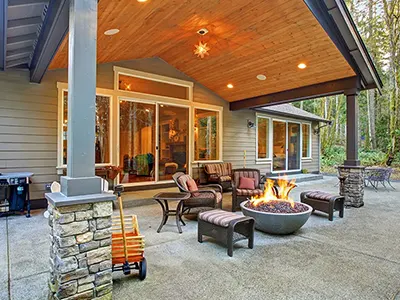 Average Outdoor Living Space*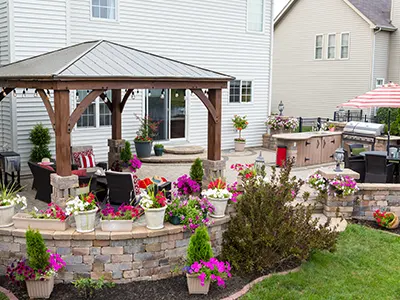 High-End Outdoor Living Space*
*Prices are averages and may change depending on the size of your outdoor space and your choice of materials, landscaping features, and accessories. You'll receive an exact quote for your unique outdoor project after the in-house consultation.
Trained And Certified Professionals
When you're looking for the best outdoor experience, you want to make sure that your needs are met and exceeded. At McKinley Construction Management, we work hard at delivering great service with high-quality materials and top-notch training. That way you get an amazing product built by a team of professionals.
Here's What Our Customers Say…
To give you an idea of the quality service you can expect, please take a look at some of our client reviews.
McKinley Construction did a fantastic job with our pergola. The quality of the work was excellent, but the best part is they truly care about the customers. Cody will not stop until you are happy and is extremely knowledgeable. Highly Recommend!
Cody and Chris were awesome to work with. Constuction was timely on our screened in patio. Framing, screens, fans, Fans, hung my porch swing it's a beautiful place to hang out. I will call MCM again if I need any additional improvements.
Owner Cody and his team of professionals created a Beautiful backyard living space for my wife and I. Complete with a brand new slab patio, pergola and stone fire pit. They did an amazing job and provided excellent customer service.
John Rich (US)
22:03 27 Oct 22
MCM did a great job on my pool/patio combo. Very good communication and fast timeline.
Jamel Musa
02:52 06 Sep 21
We used McKinley Construction Management to extend our patio with travertine pavers. I can't speak highly enough of this company and the people that work there! From start to finish, we had nothing but the best experience working with them.Sales Rep Experience - Our awesome sales rep, Ronnie, showed up on time and delivered a competitive quote that did not change as the project progressed (this has sadly happened to us more than once with other companies). Anytime I had a question, I would e-mail or text Ronnie and received a reply back within 10 minutes or less (surprisingly even on the weekend). Ronnie provided us access to track the project online using Builder Trend. We received weekly updates on the status of the project and knew exactly where we were in the process and when the project was scheduled to start/finish. We were also able to make payments through the site, which was very convenient.Construction Crew Experience - We've had less than stellar experiences with construction crews using other companies, but the McKinley crew was top-notch. They showed up every day of duration of the project at 8am and worked non-stop through the 100 degree temps until 6pm. The craftsmanship of the team was incredible to watch. They hand cut and laid each stone paver to perfection. At the end of every day, they spent 15-30 minutes cleaning up the job site (again, an experience we had not had prior to using McKinley).Office/Admin Experience - Julia in their office was very helpful and a great resource. I called a few times with questions and if she didn't have the answer, she would reach out to the person that did and get back to me in a matter of minutes.Look no further than McKinley Construction Management for all of your home project needs!
Angela B.
07:01 16 Feb 21
MCM built my dream covered patio. They even made it bigger then the original plans, by request. Cody and Chris both were professional and patient with me, who didn't know a thing about this build and what it took to get what I wanted. I wasn't always informed on what was happening at the time it was happening but none the less, the job got done. The crews were very nice and worked fast. Both Chris and Cody addressed all my questions and issues and made sure I was happy with everything. Cody was great with ideas and letting me know what would work or not. Believe me, I made many changes as the project was happening and they accommodated them all! Chris worked more the back ground but was very responsive via emails and calls. I had LOTS of questions. He answered them all! I asked to meet a face behind the creation and he made an appearance with Cody on the final walk through. That meant the world to me! They are both as cool as the beards they wear! I had MCM built out my concrete patio to the whole length of the house, a covered patio with electrical, installed fan and TV and also a fire pit area out in the yard.
Experience The Ultimate Outdoor Living Space