Extend your living space with patios, pergolas, outdoor kitchens, grill and dining areas, and More. Serving Plano, Mckinney, Frisco, And More Of Collin And Dallas Counties, TX.
Scroll to discover outdoor living space options, process, and pricing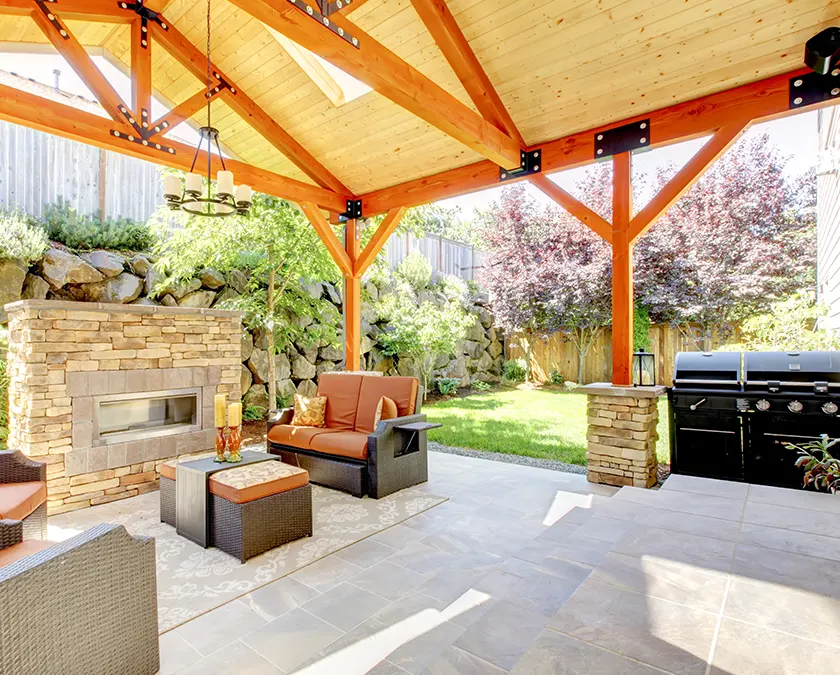 Upgrade Your Home With An Amazing Outdoor Living Space
The outdoors is a great place to spend time and reconnect with loved ones. A multi-functional outdoor living area can help you do both from the comfort of your home.
From working on projects, gathering friends or family members for an event in your backyard, to relaxing in private – the possibilities are endless.
No matter the season, you can elevate your home and enhance your way of living. All that's left is to enjoy quality moments with the people you care about.
Here are the most popular outdoor living space upgrades:
An Inviting Space For The Whole Family To Enjoy
In a world where we are constantly on the go, it can be hard to find the time for friends and family. We often prioritize work or other obligations over spending one-on-one moments with those who matter most in our lives.
A functional outdoor living space is more than an addition to your backyard. It's a beautiful place that encourages you to live in the present, enjoy fresh air, and take in the simple joys of life.
It's time to create a unique spot where you can savor great conversations, family meals, and make long-lasting memories.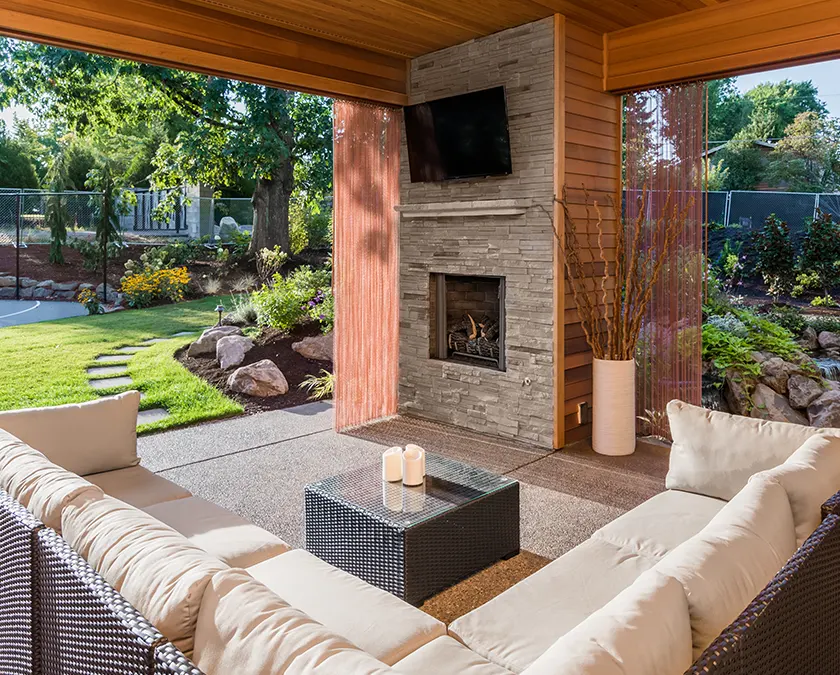 Your Outdoors Could Look like This, Too
Outdoor Living FAQ Corner
The cost of creating an outdoor living space can vary depending on several factors, ranging from $30k to $100k or more. The final cost depends on the scope of the project, the size of the space, the materials used, and the desired features and amenities.
We work closely with you to understand your vision and provide a detailed cost estimate based on your specific requirements.
Yes, an outdoor space can be used all year-round, especially when you incorporate features like infrared heaters.
By adding heating elements, you can extend the usability of your outdoor space during cooler months. Infrared heaters provide warmth directly to objects and people, creating a comfortable environment.
With proper design considerations, insulation, and the addition of heating elements, you can enjoy your outdoor living space throughout the year.
To maintain and care for your outdoor living space, it's recommended to restain posts every 3 to 5 years.
Regular maintenance, such as cleaning surfaces, inspecting and repairing any damage, and ensuring proper drainage, helps prolong the lifespan and appearance of your outdoor living space.
Following a routine maintenance schedule will keep your space looking its best and ensure that it remains a welcoming and enjoyable area for years to come.
The timeline for finishing your outdoor living space depends on various factors, including permitting, HOA design approval (if applicable), and the construction phase.
Typically, the passive time, which includes obtaining permits and design approvals, can take around 12 weeks. The active construction phase can range from 3 to 6 weeks, depending on the complexity and scale of the project.
Our team strives to complete your outdoor living space efficiently without compromising on quality, ensuring that you can enjoy your new space in a timely manner.
Yes, building an outdoor space in Texas requires a permit from the Building Inspections Division. When you work with us, we can guide you through the process of permit application, so you don't have to worry about filing paperwork with wrong information.
Of course! Fire features, such as fire pits or fireplaces, can add warmth and ambiance, making your outdoor space cozy and inviting.
Water features, such as fountains or waterfalls, can bring a soothing and tranquil element to your outdoor living area. Our design team can help incorporate these features into your outdoor living space, turning it into a captivating and rejuvenating oasis.
Outdoor Living Space Costs In Texas
Regardless of the complexity of your project, we're here to make it happen. We'll listen intently and won't settle until we meet or exceed your expectations. 3D design is included so that you can visualize your space before we get to work.
Before
After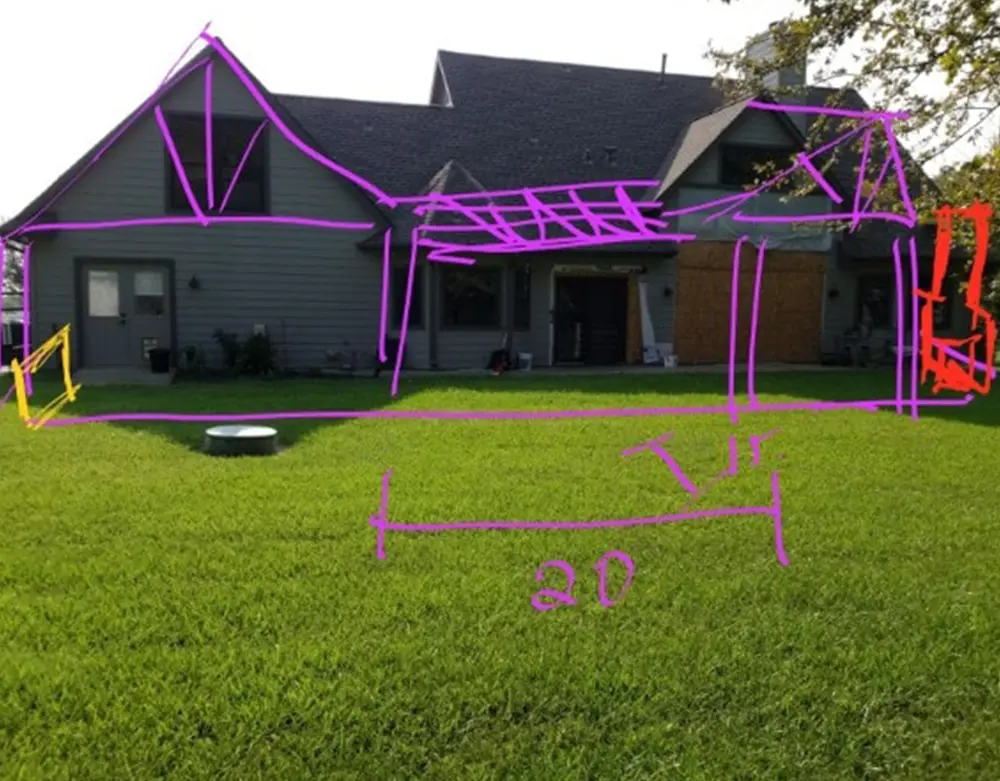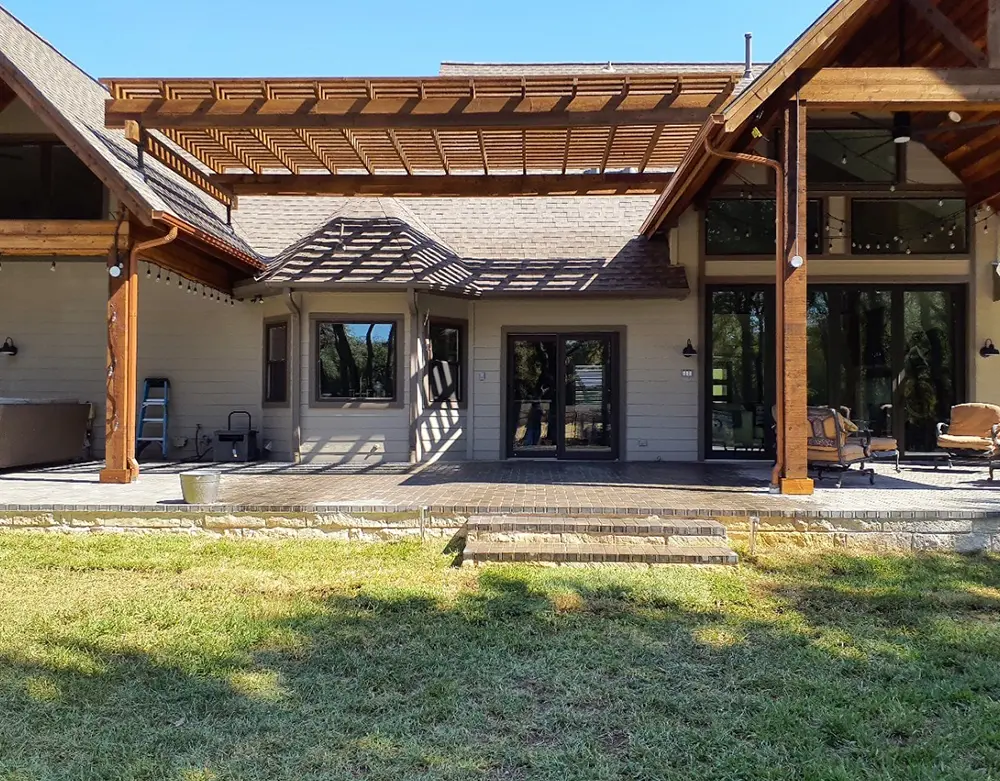 1,200 sq. ft. outdoor living Space In Plano, TX
This outdoor living space project included:
The project was quoted at $143k, where the dual gable covered patios was the most expensive item, at $63k.
Before
After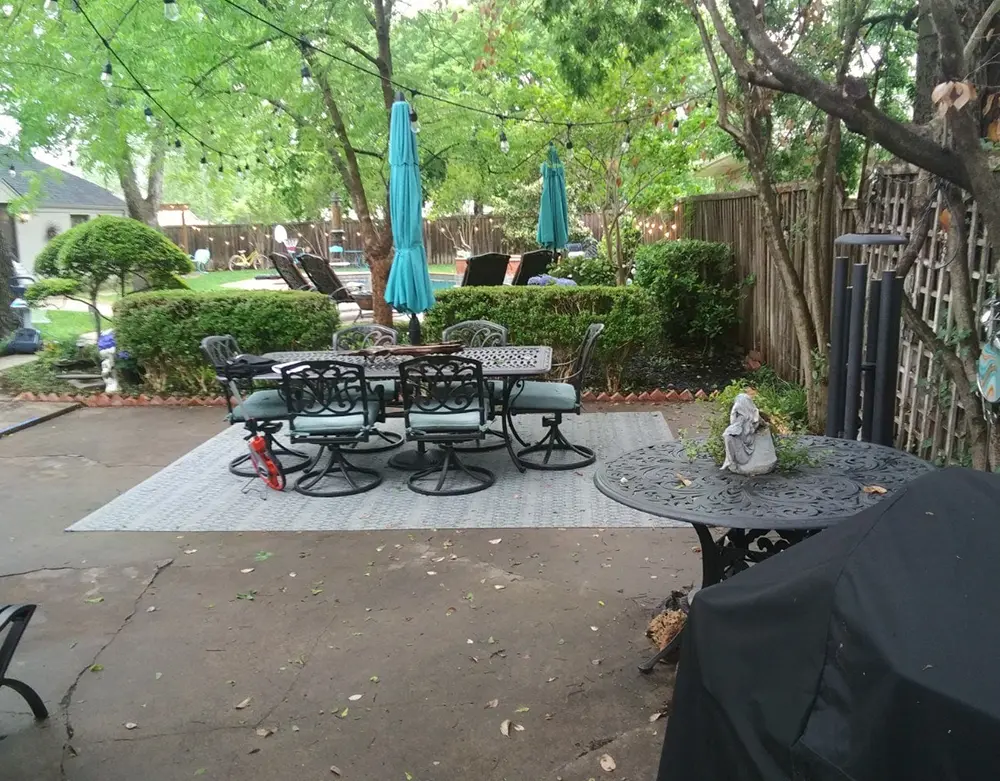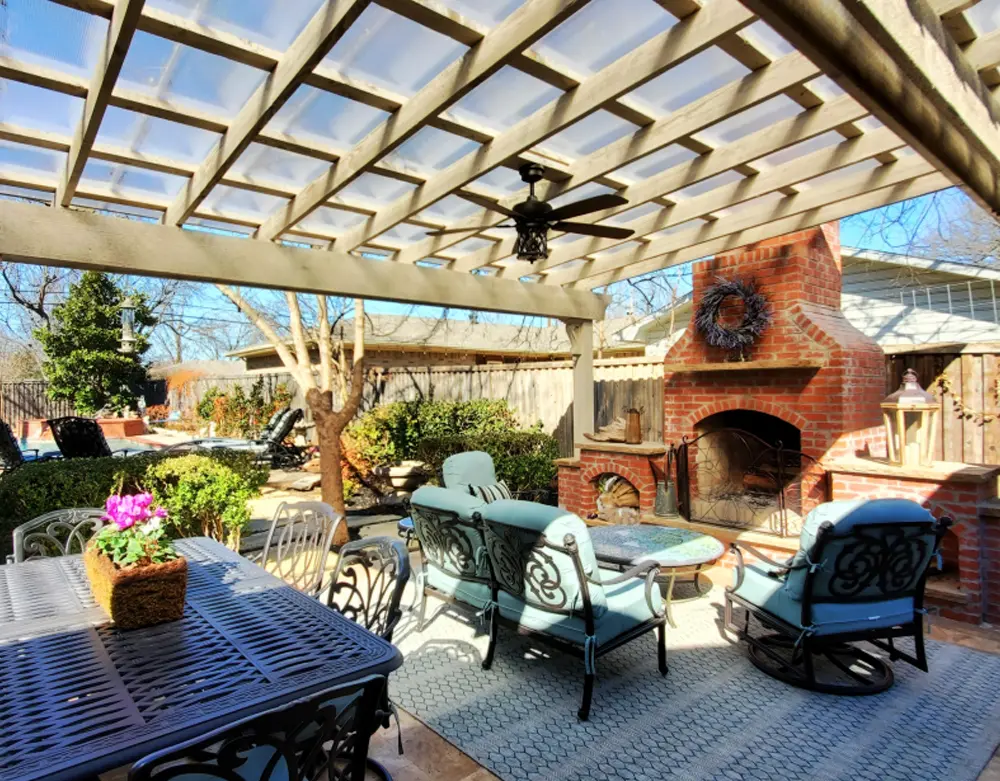 600 sq. ft. outdoor living in Allen, TX
This outdoor living space project included:
The project was quoted at $85k, where the travertine pavers and the custom fireplace alone were $14k.
Before
After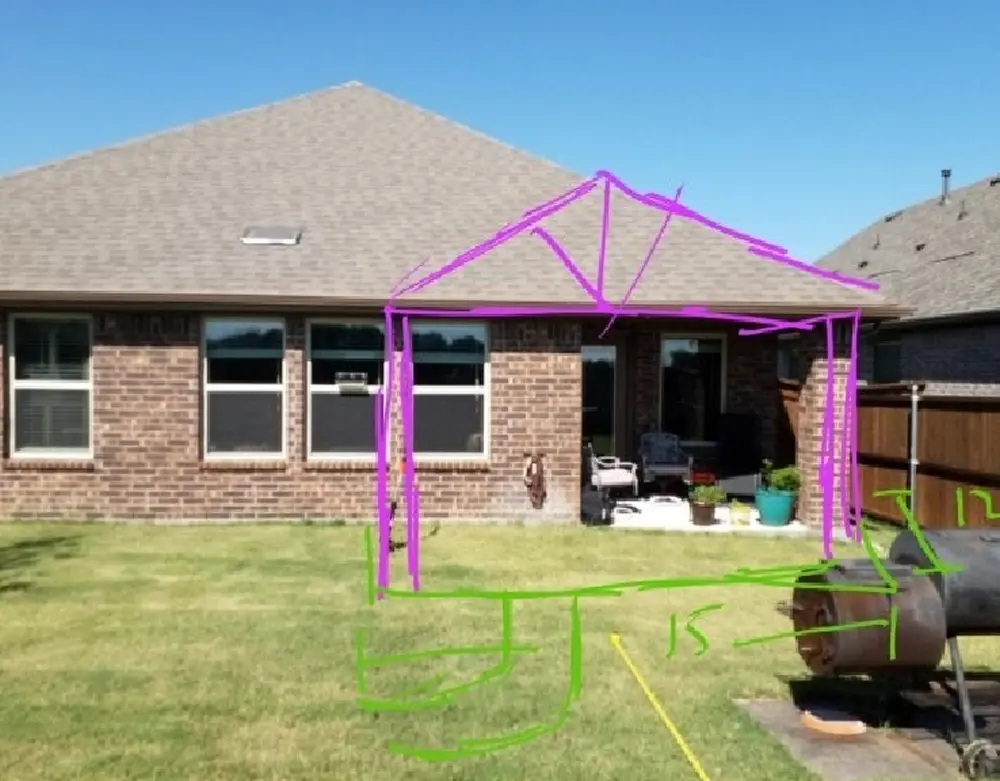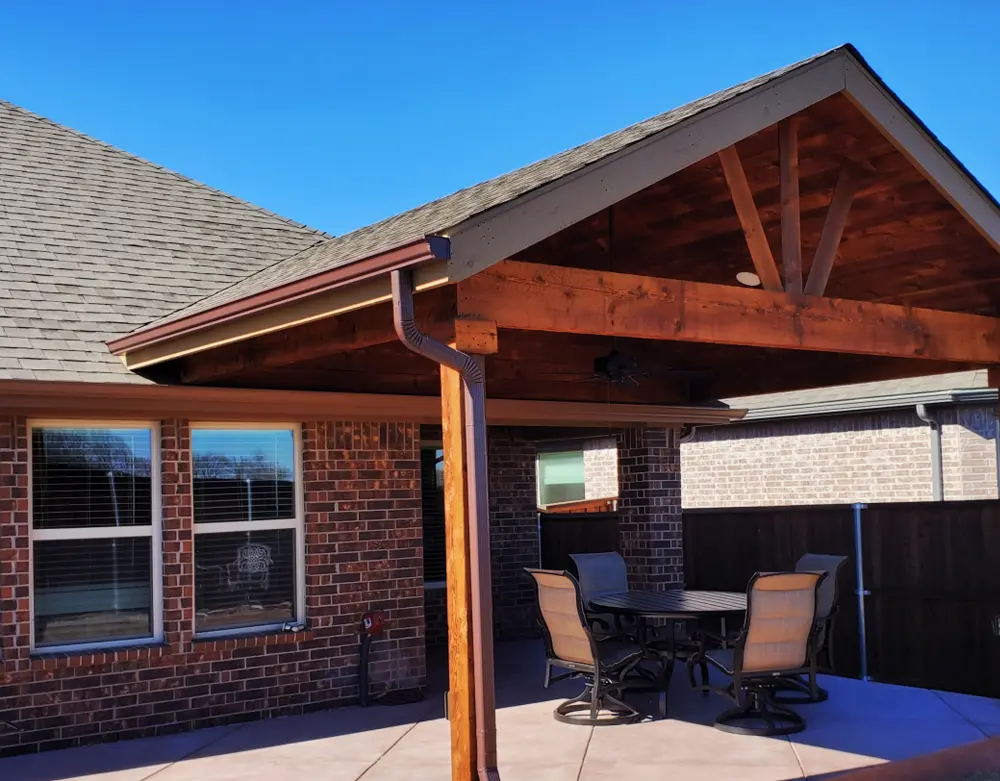 200 Sq. ft gable covered patio in McKinney, TX
This outdoor living space project included:
The project was quoted at $54k, where the covered patio alone was $24k.
Need Financing? We Got You Covered.
You should be able to enjoy more of your property without waiting for years because funds are tight. If an outdoor living space is on your list for a while but haven't taken the first step because of finances, get in touch with us. We have 0% financing solutions to help make your project happen.
More Space For Loved Ones In 3 Steps
From the moment you reach out to us, we'll make it an unforgettable experience. Here's how it all works:

When you decide to improve your outdoor space, give us a call. Share with us your vision of your ideal outdoor living space. We'll provide you with ballpark pricing and schedule an in-home consultation.

We'll start building your outdoor living space as soon as possible. We are efficient, have an eye for detail, and will address any concerns you have. That way you are always comfortable during the entire process.

When your project is finished, you'll have the chance to make sure everything looks exactly as you imagined. All that's left is to invite all of your friends and loved ones to enjoy your outdoor paradise.
Here's What Our Customers Say…
To give you an idea of the quality service you can expect, please take a look at some of our client reviews.
McKinley Construction did a fantastic job with our pergola. The quality of the work was excellent, but the best part is they truly care about the customers. Cody will not stop until you are happy and is extremely knowledgeable. Highly Recommend!
Cody and Chris were awesome to work with. Constuction was timely on our screened in patio. Framing, screens, fans, Fans, hung my porch swing it's a beautiful place to hang out. I will call MCM again if I need any additional improvements.
Owner Cody and his team of professionals created a Beautiful backyard living space for my wife and I. Complete with a brand new slab patio, pergola and stone fire pit. They did an amazing job and provided excellent customer service.
Experience The Ultimate Outdoor Living Space