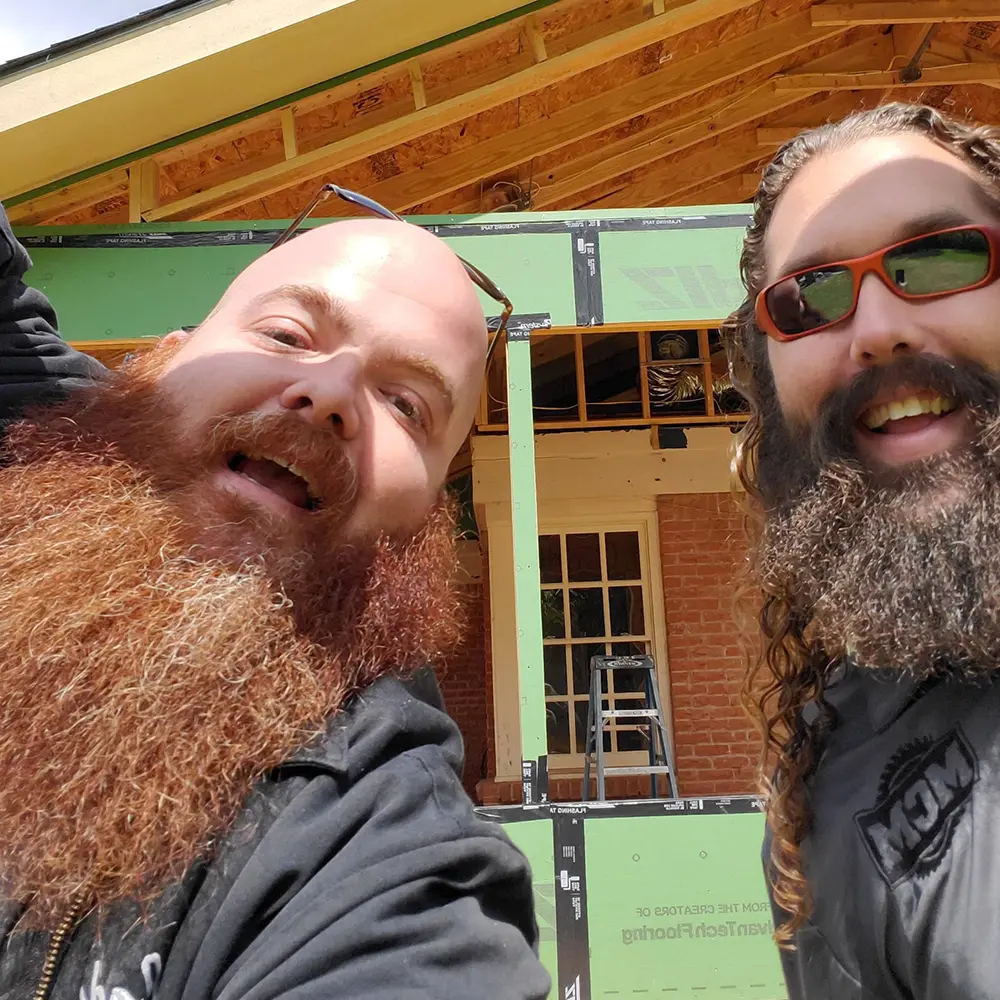 If you're interested about what other homeowners in Northern Texas say about us, browse our reviews and see for yourself! Or, if you've worked with us in the past, let your neighbors know how much you loved working with us by leaving a review!
- Cody, owner of McKinley Construction Management
This is what our past customers say about working with MCM!
Thomas Altman did a good job explaining the services and pricing information. He was patient and I appreciate the time that he spent on the appointment day as well as doing a follow up.
Thank you for your wonderful review and feedback, Matt! We're thrilled that your appointment with Thomas was positive and that he was able to provide thorough explanations of our services and pricing information.
We pride ourselves on providing prompt customer service and appreciate the fact that you noticed Thomas' attentiveness to detail.
Your comments will be shared with our team here at MCM and we are sure they will consider it a badge of honor. We look forward to serving you in the future.
Cody and Mike were great! They were timely, very helpful and professional! They asked what I was looking for and offered several options and price points to help me achieve that desired project. 
 I asked for their suggestions and ideas to help improve my space as well and really liked their ideas. They were able to show me sketches of potential for my space on site as we discussed them. On top of that, they were fun to work with!
I would highly recommend them!
Thank you so much Shelly for your kind words! We're so delighted to hear that Cody and Mike (Nat) were able to provide a great experience while helping you create the space of your dreams. It's feedback like yours that allows us to ensure we are meeting our customers' needs and delivering quality customer service.
We would like to thank you again for allowing us the opportunity to assist with your project and for recommending us to others. We really appreciate your taking the time to leave such an amazing review – it made our day here at MCM!
This user just left a 5-star rating.
Thank you so much, Sylvana , for your kind words and taking the time to review your experience. We are very pleased that Cody and Nat provided excellent service to you and went above and beyond. We strive to make each customer's experience with us a positive one, so we're thrilled that this was achieved in your case.
We truly appreciate that you would recommend us as everyone here works hard to ensure customers feel both well taken care of, and enjoy the process of transforming their homes! Thank you for choosing MCM for your remodeling project needs – it has been our pleasure.
Thomas was extremely knowledgeable and patient. He took the time to answer all our questions.
Thank you for the most excellent review! We look forward to working with you!
MCM did a great job on my pool/patio combo. Very good communication and fast timeline.
MCM came back out 6 months later to fix some stone and replace polysand. They stand by their work.
Thanks for the review John! We look forward to many more projects in the future!
The team at McKinley did an awesome job with our bathroom and closet remodel project. We also used them to put in a new and expanded driveway.
I cannot rave enough about these guys. They came in with innovative solutions and executed them marvelously. Highly recommended. Will most def use again on my next home renovation project.
Thomas Altman is very approachable , he worked out of his regular schedule and worked with us at our convenient time in the evening so that me and my husband could sit together meet him and discuss various options
He explained to us the process with good patience without rushing through providing us not one but different options / models to bring down the cost to near our budget .we are very happy with his service
Thanks for the kind words!
Great company. Would definitely recommend.
Thank you for the review!
McKinley was quick to get to me and give me their valuable time. Kaili was easily reachable there and Cody really brought into focus my vision/ idea for a project. Hoping to work with them in the future.
Hey Matt, we look forward to working with you in the future.
This user only left a 5-star rating.
Their Bio on how they describe their company is SPOT ON.
They definitely have the body and soul needed to drive excellent customer service. 
From the Second you pick up the phone and chat with one of their outstanding team members… you will breathe deep and say "Whew I am in good hands" – TRUST ME YOU WONT REGRET WORKING WITH THEM, YOUR BODY AND SOUL WILL THANK YOU!
This user only left a 5-star rating.
Cody was very knowledgeable and professional. His vision and expertise is top notch. I would recommend McKinley Construction Management for your backyard makeover.
Hey Ronald! Thanks for the kind words. Always a pleasure!
It's hard to express the gratitude that my family has felt working with this crew. We have struggled with flooding from rainwater in our backyard and patio/house since the moment we moved into the home, without any sight to a solution. 
Due to the previous homeowner's patchwork job, it was a project that required some unique help in order to not only eliminate flooding, but to also create an updated and functional patio space. 
The crew was very diligent in their work and was quick to respond when rainwater persisted to give us troubles, so that the problem would not happen again. 
Between the new beams to support the patio, drainage in both the yard and the actual patio, the patio flooring, and gutter system, they went over and beyond expectations.
Our pleasure! Thanks for the kind words!
After having a horrible pool builder experience and a lifting pool deck after 2 years, we hired MCM to completely take up our cool deck and lay a new travertine tile surround and it looks amazing!!! 
A cracked skimmer basket was also repaired in the process and my pool has never looked better. 
Thank you so much. We have made several referrals to your company and will continue to let people know what amazing work your team does.
Thank you for the review! Y'all were a joy!
This user only left a 5-star rating.
They did a great job on building my Pergola ! We had some things that needed to be tweaked and they were out here quickly to fix it … 
I really liked the computer drawing to help me visually see the finished Pergola …. Would use them again !
Thank you for the review!
Very professional and provide top notch construction needs.
They added to our patio. It has been very good plus the French drainage system is great
Thank you for the kind words. Our pleasure.
Carefully listen to customers request and ideas. Talking with MCM professionals is very leisure. They are trustable.
Grateful we found McKinley Construction Management! Honest, hardworking and quality work. Highly recommend!
Thank you for the kind words!
Great company, looking forward to future projects!
This user only left a 5-star rating
This user only left a 5-star rating
Thank you for the kind words!
Great work. They did a fantastic job on my flowerbeds.
Thank you for the kind feedback! We are looking forward to your pergola!
We had a travertine patio put in. They were super professional, high, high quality of workmanship. And they cleaned up afterwards. Would highly recommend them again and again.
Thanks David! We loved working with you!
Great experience – beautiful dry creek bed install, plus landscaping removal, banister and gate replacement.
Thanks Kristin! Our Pleasure!
This crew came in a pinch. Needed them to do concrete work for plumbing and they showed up fast. Good price too. Thanks guys
Cody was exceptional. Just gave me honest, straightforward counsel via phone and pictures and didn't charge me anything. Saved time and money with what will be an easy fix. Really appreciate it, 5 stars.
This user only left a 5-star rating
Thank you for the kind words!
McKinley transformed my small boring backyard to a place I enjoy spending time on my newly expanded patio.
Thank you for the kind review. We look forward to the project! Your project was a absolute joy! Enjoy!
This user only left a 5-star rating
Thank you for the review!
This user only left a 5-star rating
This user only left a 5-star rating
Thank you for the Feedback!
Really enjoyed doing business with Ronnie at MCM, whenever a question would arise Ronnie would take care of it quickly and professionally at the best of his ability. Our backyard looks great what we asked for and couldn't be more pleased with the quality.
Thanks Jason! We enjoyed it!
MCM created an amazing backyard experience for my home on the lake that included an expansive travertine patio, with stone staircases, custom railing for both of my patios, wrought iron fencing, paint and landscaping. 
 This had to be completed on a deadline for a wedding in my backyard, and we had unpredictably bad weather for the weeks leading up to it. 
 Despite the challenges they somehow managed to get it completed on time with their determination and creativity. I cannot say enough about the customer service attitude that I experienced from the owners and their staff. 
They were committed to ensuring that I was happy with everything before they asked for final payment. I am very satisfied with the work that they did, and would use them again!
Thank you for the kind review! Our Pleasure.
We could not be happier with MCM! From the initial visit to discuss our project through completion they have been fantastic. 
 Ronnie Goldsmith has been great dealing with our rough concepts and offering suggestions and advice. When we decided to make a change half way through the project, they were most accommodating and easy to work with. 
 Their crews go the extra mile and even did some brush clean out on the site which greatly improved appearance. 
 5 stars in our book!
Thank you for the opportunity to serve you and your family! We look forward to working together again in the future.
This user only left a 5-star rating
Thank you for the review!
This user only left a 5-star rating
Thank you for the review!
We used McKinley Construction Management to extend our patio with travertine pavers. I can't speak highly enough of this company and the people that work there! From start to finish, we had nothing but the best experience working with them.
Sales Rep Experience – Our awesome sales rep, Ronnie, showed up on time and delivered a competitive quote that did not change as the project progressed (this has sadly happened to us more than once with other companies). Anytime I had a question, I would e-mail or text Ronnie and received a reply back within 10 minutes or less (surprisingly even on the weekend). Ronnie provided us access to track the project online using Builder Trend. We received weekly updates on the status of the project and knew exactly where we were in the process and when the project was scheduled to start/finish. We were also able to make payments through the site, which was very convenient.
Construction Crew Experience – We've had less than stellar experiences with construction crews using other companies, but the McKinley crew was top-notch. They showed up every day of duration of the project at 8am and worked non-stop through the 100 degree temps until 6pm. The craftsmanship of the team was incredible to watch. They hand cut and laid each stone paver to perfection. At the end of every day, they spent 15-30 minutes cleaning up the job site (again, an experience we had not had prior to using McKinley).
Office/Admin Experience – Julia in their office was very helpful and a great resource. I called a few times with questions and if she didn't have the answer, she would reach out to the person that did and get back to me in a matter of minutes.
Look no further than McKinley Construction Management for all of your home project needs!
Thank you for your kind words! Our pleasure. We look forward to working with you on future projects!
This user only left a 5-star rating
We just received our quote. The consultation is worth every minute. Cody knows his business he is creative and provides ideas that enhance what you have thought and provide fresh new innovative solutions.
Thank you Mel! Our pleasure. -MCM team

MCM built my dream covered patio. They even made it bigger then the original plans, by request. Cody and Chris both were professional and patient with me, who didn't know a thing about this build and what it took to get what I wanted. 
I wasn't always informed on what was happening at the time it was happening but none the less, the job got done. The crews were very nice and worked fast. Both Chris and Cody addressed all my questions and issues and made sure I was happy with everything. Cody was great with ideas and letting me know what would work or not. Believe me, I made many changes as the project was happening and they accommodated them all! 
Chris worked more the back ground but was very responsive via emails and calls. I had LOTS of questions. He answered them all! I asked to meet a face behind the creation and he made an appearance with Cody on the final walk through. That meant the world to me! They are both as cool as the beards they wear! 
I had MCM built out my concrete patio to the whole length of the house, a covered patio with electrical, installed fan and TV and also a fire pit area out in the yard.
Thank You Angela! Our pleasure.
Cody and Chris with McKinley Construction Management are amazing! 
They have been a joy to work with though multiple home projects that happened in very short time. They are professional and take a lot of pride in their work. 
I knew I was in good hands right away. They are so open to the vision for my home and even added their expertise to make the results perfect! 
 They are always responsive, on time, managed all of the work start to finish, sent updates on progress and addressed any changes or concerns quickly. 
I couldn't ask for a better partner in transforming my home!
Thank you Erika! Your a joy to work with as well!
They rebuilt a section of my fence that was falling down. The work was done well and quick.
This user only left a 5-star rating
Thank you for the review.
Enclosed screened in patio added ceiling fans, hung porch swing. Very professional and quality work. Would recommend and would use again.
Thanks Terry. It was our pleasure.
McKinley did a fantastic job on the expansion of our patio and construction of our outdoor kitchen! They were great to work with, and their work was top notch!
Thank you Summer. It was our pleasure.
This user only left a 5-star rating
These guys do a great job! They are fair, dependable and creative. I had a basic idea of what I wanted and they improved upon my idea.
They were flexible with minor changes and my crazy schedule. Definitely will use them again and recommend them to friends and family.
Tresa, you are a pleasure to work with. Thank you for your business and this glowing review. We look forward to working with you again.
This user only left a 5-star rating
This user only left a 5-star rating
It was a pleasure working with Chris and his crew! Chris was always quick to respond and answered any questions I had. 
He also took the time to research plants that would fit our lifestyle and ones that I would really love, he nailed it! I highly recommend MCM and will use them again!
Thank you Courtney for allowing us to being your dreams to life. You have been a pleasure to work with and we look forward to many more opportunities to serve!
It was a great experience!
Thank you, Todd, for allowing us to assit you.
This user only left a 5-star rating
Thank you Matt for your business and your review. It was a pleasure to work with you.
This user only left a 5-star rating
Excellent work, very satisfied. Cody was a please to work with.
Thanks Torrey! Enjoy your outdoor kitchen and. Covered and pergola!
This user only left a 5-star rating