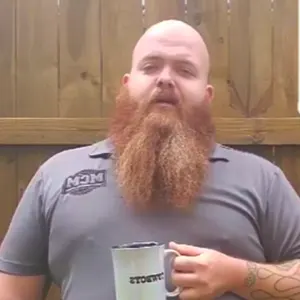 " We're so happy to have had the chance to work with you! Your feedback is invaluable in helping others get inspired about what they can do for their own outdoor space. We'd love it if you could take a moment and share your experience with us by leaving us an honest review! Click on the buttons below and share your feedback. "
- Cody McKinley, Owner of McKinley Construction Management
Read what our satisfied clients had to say about us, find some insight into how we do our work, and see what you can expect when choosing us as your construction company.
Chandler Hill
December 13, 2022.
It's hard to express the gratitude that my family has felt working with this crew. We have struggled with flooding from rainwater in our backyard and patio/house since the moment we moved into the home, without any sight to a solution. Due to the previous homeowner's patchwork job, it was a project that required some unique help in order to not only eliminate flooding, but to also create an updated and functional patio space. The crew was very diligent in their work and was quick to respond when rainwater persisted to give us troubles, so that the problem would not happen again. Between the new beams to support the patio, drainage in both the yard and the actual patio, the patio flooring, and gutter system, they went over and beyond expectations.
John Rich (US)
October 27, 2022.
MCM did a great job on my pool/patio combo. Very good communication and fast timeline.
Linda Herbert
October 24, 2022.
They did a great job on building my Pergula ! We had some things that needed to be tweaked and they were out here quickly to fix it … I really liked the computer drawing to help me visually see the finished Pergula …. Would use them again !
Thomas Altman
October 19, 2022.
Very professional and provide top notch construction needs.
Nancy Randolph
October 14, 2022.
They added to our patio. It has been very good plus the French drainage system is great
James Li
October 13, 2022.
Carefully listen to customers request and ideas. Talking with MCM professionals is very leisure. They are trustable.
Lacquement Family
September 6, 2022.
Grateful we found McKinley Construction Management! Honest, hardworking and quality work. Highly recommend!
Cobus Breytenbach
August 19, 2022.
Great company, looking forward to future projects!

We used McKinley Construction Management to extend our patio with travertine pavers. I can't speak highly enough of this company and the people that work there! From start to finish, we had nothing but the best experience working with them.
Sales Rep Experience – Our awesome sales rep, Ronnie, showed up on time and delivered a competitive quote that did not change as the project progressed (this has sadly happened to us more than once with other companies). Anytime I had a question, I would e-mail or text Ronnie and received a reply back within 10 minutes or less (surprisingly even on the weekend). Ronnie provided us access to track the project online using Builder Trend. We received weekly updates on the status of the project and knew exactly where we were in the process and when the project was scheduled to start/finish. We were also able to make payments through the site, which was very convenient.
Construction Crew Experience – We've had less than stellar experiences with construction crews using other companies, but the McKinley crew was top-notch. They showed up every day of duration of the project at 8am and worked non-stop through the 100 degree temps until 6pm. The craftsmanship of the team was incredible to watch. They hand cut and laid each stone paver to perfection. At the end of every day, they spent 15-30 minutes cleaning up the job site (again, an experience we had not had prior to using McKinley).
Office/Admin Experience – Julia in their office was very helpful and a great resource. I called a few times with questions and if she didn't have the answer, she would reach out to the person that did and get back to me in a matter of minutes.
Look no further than McKinley Construction Management for all of your home project needs!
Thank you for your kind words! Our pleasure. We look forward to working with you on future projects!

MCM built my dream covered patio. They even made it bigger then the original plans, by request. Cody and Chris both were professional and patient with me, who didn't know a thing about this build and what it took to get what I wanted. I wasn't always informed on what was happening at the time it was happening but none the less, the job got done.
The crews were very nice and worked fast. Both Chris and Cody addressed all my questions and issues and made sure I was happy with everything. Cody was great with ideas and letting me know what would work or not. Believe me, I made many changes as the project was happening and they accommodated them all! Chris worked more the back ground but was very responsive via emails and calls.
I had LOTS of questions. He answered them all! I asked to meet a face behind the creation and he made an appearance with Cody on the final walk through. That meant the world to me! They are both as cool as the beards they wear! I had MCM built out my concrete patio to the whole length of the house, a covered patio with electrical, installed fan and TV and also a fire pit area out in the yard.
Thank You Angela! Our pleasure.
McKinley Construction did a fantastic job with our pergola. The quality of the work was excellent, but the best part is they truly care about the customers. Cody will not stop until you are happy and is extremely knowledgeable. Highly Recommend!
We just received our quote. The consultation is worth every minute. Cody knows his business he is creative and provides ideas that enhance what you have thought and provide fresh new innovative solutions.
Thank you Mel! Our pleasure. -MCM team
A couple of great guys run this company. Very well organized and ran company. I highly recommend.
We could not be happier with MCM! From the initial visit to discuss our project through completion they have been fantastic. Ronnie Goldsmith has been great dealing with our rough concepts and offering suggestions and advice. When we decided to make a change half way through the project, they were most accommodating and easy to work with. Their crews go the extra mile and even did some brush clean out on the site which greatly improved appearance. 5 stars in our book!
Excellent work, very satisfied. Cody was a please to work with.
Thanks Torrey! Enjoy your outdoor kitchen and. Covered and pergola!
Excellent work, very satisfied. Cody was a please to work with.
Cody and Chris are great to work with! They are responsive and love what they do! Their passion shines through their work and their beards 🙂
We received great service when looking to have our fence repaired abs repainted as well as a German smear technique on our brick (entire house). It was all done in a week and looks fantastic. The team was flexible and worked with us to make sure it was exactly what we wanted.
Cody and Chris were awesome to work with. Constuction was timely on our screened in patio. Framing, screens, fans, Fans, hung my porch swing it's a beautiful place to hang out.
I will call MCM again if I need any additional improvements.
It was truly our pleasure!
Had our roof replaced. Cody was a straight up professional. Was a pleasure dealing with him and his crew. They did an excellent job. Completely cleaned up afterwards. Will use them again on any projects o may come up with.
Thank you Mr. Ryan! Our pleasure.
It was a pleasure working with Chris and his crew! Chris was always quick to respond and answered any questions I had. He also took the time to research plants that would fit our lifestyle and ones that I would really love, he nailed it! I highly recommend MCM and will use them again!
Thank you Courtney for allowing us to being your dreams to life. You have been a pleasure to work with and we look forward to many more opportunities to serve!
Cody and Chris did a great job fixing a job that a previous contractor had done. They are very professional and made a point to make sure that we were happy with the final result. They will go above and beyond to ensure that their customers are satisfied at the end of the day. If you are looking for experts to help you with your next renovation or project look no further. These are your guys!
Connor, thank you for kind words. It was a pleasure working with your family. We look forward to your next project.
Owner came for estimate, he was good, explained everything properly. He said he charges $45 for an in house estimate, but he waived it for me, because I told him I didn't pay attention to his email.
Thank you for the review!
These guys do a great job! They are fair, dependable and creative. I had a basic idea of what I wanted and they improved upon my idea. They were flexible with minor changes and my crazy schedule. Definitely will use them again and recommend them to friends and family.
Tresa, you are a pleasure to work with. Thank you for your business and this glowing review. We look forward to working with you again.