The Best Paver Patios in McKinney, TX
Ready to get a beautiful patio to complement your outdoor space? We've got the best solution for you.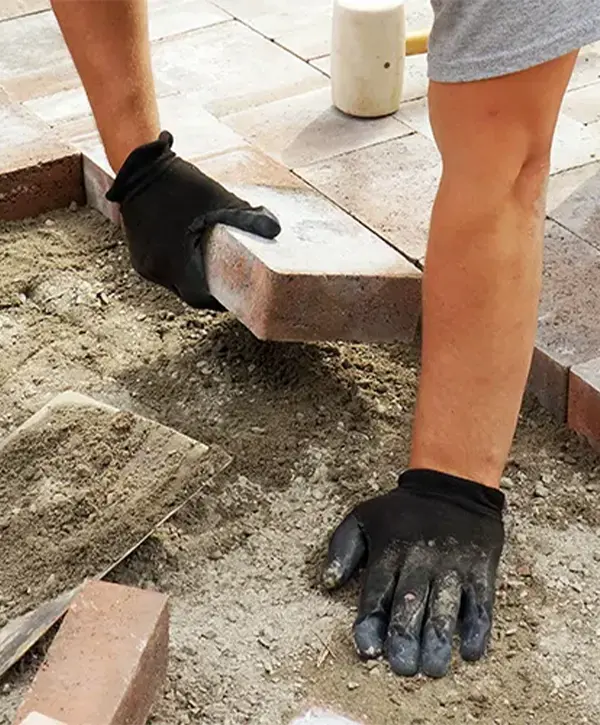 Since 2015, McKinley Construction Management has been helping homeowners such as yourself with quality and lasting paver patios at one of the best prices you can find around here. 
Our products are designed according to your preferences, and no matter what design you have in mind, we can confidently make it happen. Our goal is to go beyond the industry's standards and offer you a spectacular product, along with a straightforward building process.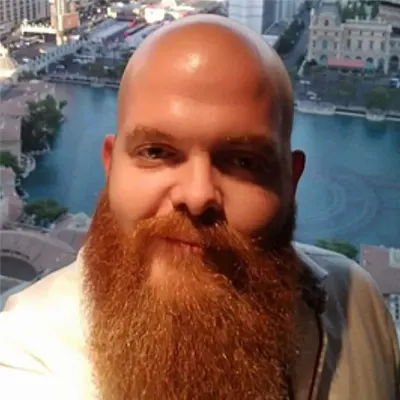 Cody McKinley, owner of McKinley Construction Management
Hi, I'm Cody McKinley, the owner of McKinley Construction Management. I inherited my talent from my dad, and since 2015, I've dedicated it to providing homeowners in the area with a complete and high-quality landscape design service. My brother-in-law, Chris, and I will work with you to come up with the best plan for your outdoor living space, ensuring transparent communication, honest prices, and reliable workmanship.
Quality Patios That You Simply Can't Get Otherwise
We're the only contractor in McKinney that can build any type of patio, regardless of materials, shape, size, and style. We take pride in our craftsmanship, and we're ready to take upon any challenge, confident we can see any project through.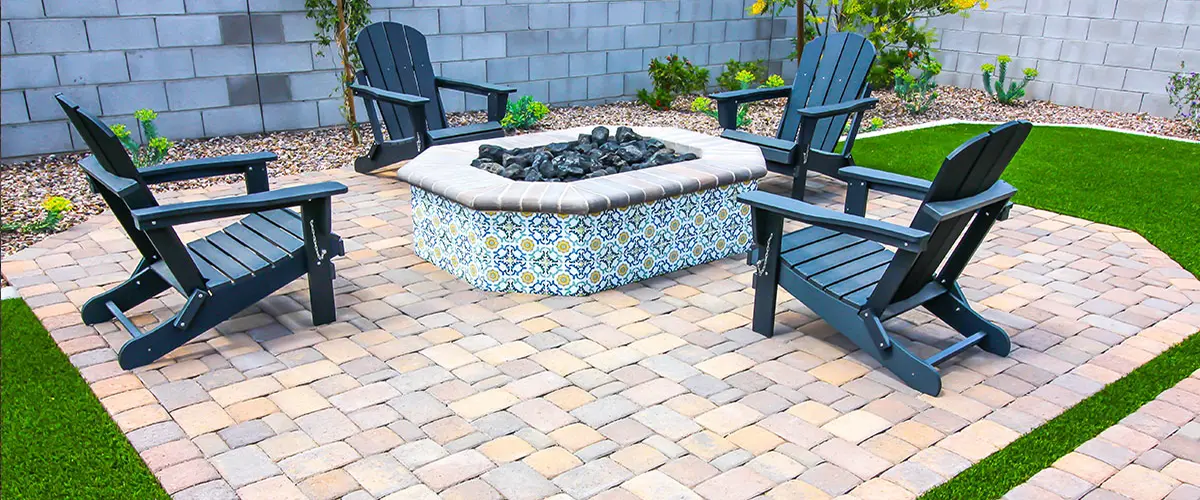 Let's build the perfect outdoor setup with: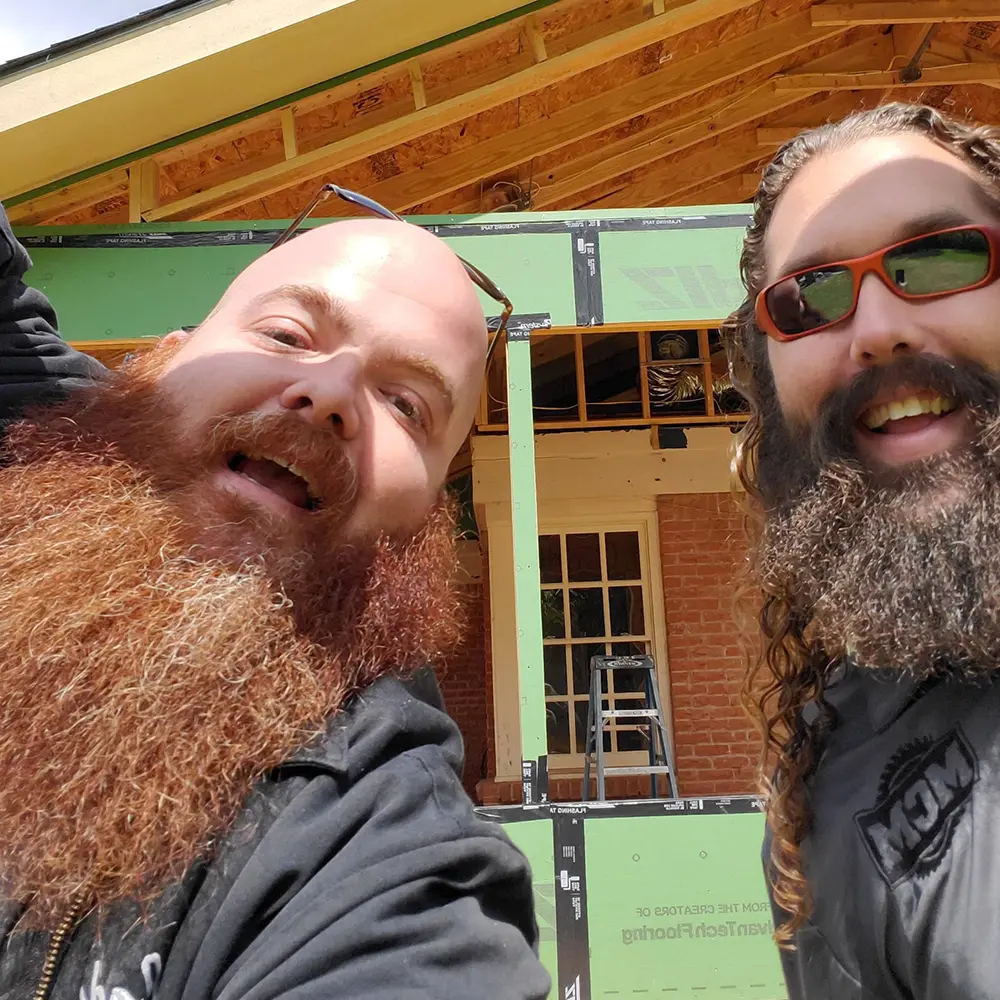 If you want to see if your budget can get you the patio you want, request your free quote now! If you'd rather get some more information about your upcoming patio, check out our paver patio service or talk with us directly at (469) 583-6213. We're looking forward to learning more about what you want to accomplish in your backyard.
Patios Like You've Never Seen Before
These are some of the patios that our customers in McKinney, TX, and surrounding areas wanted to get. They're all designed according to their requests and are unique in one way or another. Ready to get yours?
Work With A Contractor That Puts You First
We know very well what you're looking for in your contractor, and we're focusing all our efforts on delivering a spectacular service that fully satisfies your needs. Because of that, people in the area love having us on their projects.
McKinley was quick to get to me and give me their valuable time. Kaili was easily reachable there and Cody really brought into focus my vision/ idea for a project. Hoping to work with them in the future.
They did a great job on building my Pergola ! We had some things that needed to be tweaked and they were out here quickly to fix it … 
I really liked the computer drawing to help me visually see the finished Pergola …. Would use them again !
Paver Patios Cost In McKinney, TX
The cost of patio pavers can vary depending on the specific selections and materials chosen. For a 10×20 area, the cost typically falls within the range of $6,8K to $7,2k.
Patio Size
Average Cost
($11. 34 per sq foot)
Typical Price Range
($8.69 to $22.18 per square foot)
100 square feet
$1,134
$869 - $2,218
150 square feet
$1,710
$1,304 - $3,327
200 square feet
$2,268
$1,738 - $4,436
250 square feet
$2,835
$2,173 - $5,545
300 square feet
$3,402
$2,607 - $6,654
400 square feet
$4,536
$3,476 - $8,872
500 square feet
$5,670
$4,345 - $11,090
600 square feet
$6,804
$5,214 - $13,308
700 square feet
$7,938
$6,083 - $15,526
Here are different types of patio you can get in McKinney, TX, associated with their cost.
| Materials | Cost per Square Foot (Material and Installation) |
| --- | --- |
| Bluestone | $18 to $30 |
| Brick | $12 to $20 |
| Concrete | $6 to $17 |
| Flagstone | $16 to $30 |
| Gravel | $6 to $14 |
| Interlocking | $3 to $6 (materials only) |
| Natural Stone | $15 to $30 |
| Plastic | $1.90 to $8 (materials only) |
| Porcelain | $1.10 to $18 (materials only) |
| Rubber | $1.70 to $10 (materials only) |
| Slate | $15 to $30 |
| Stamped Concrete | $15 to $30 |
| Tile | $15 to $20 |
Before
After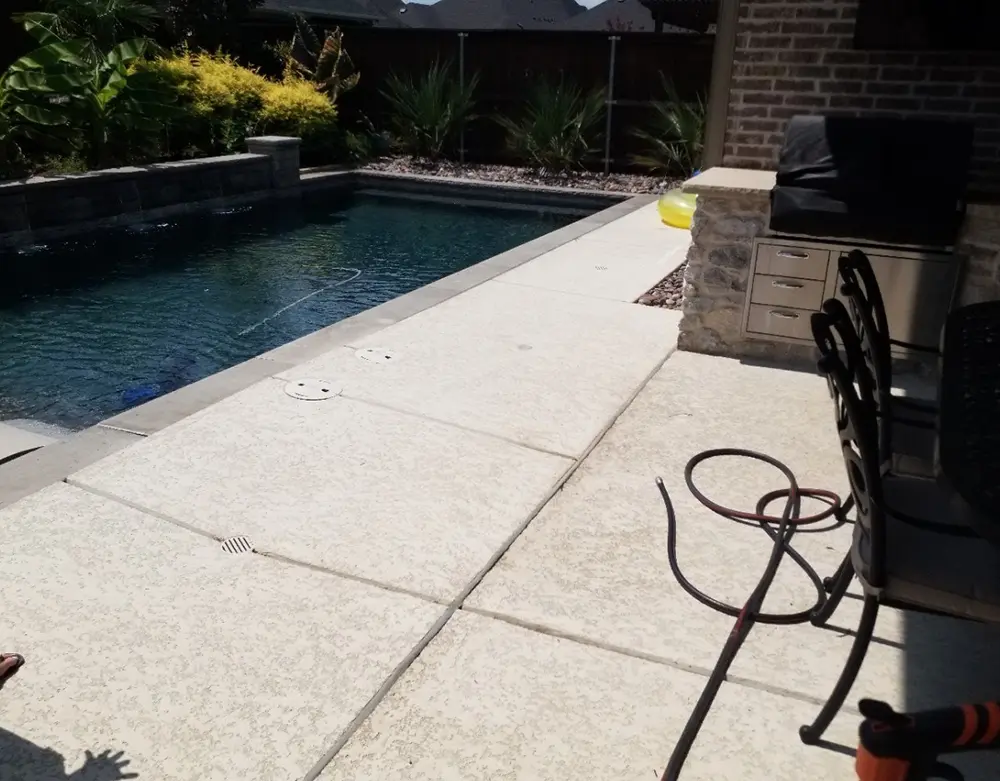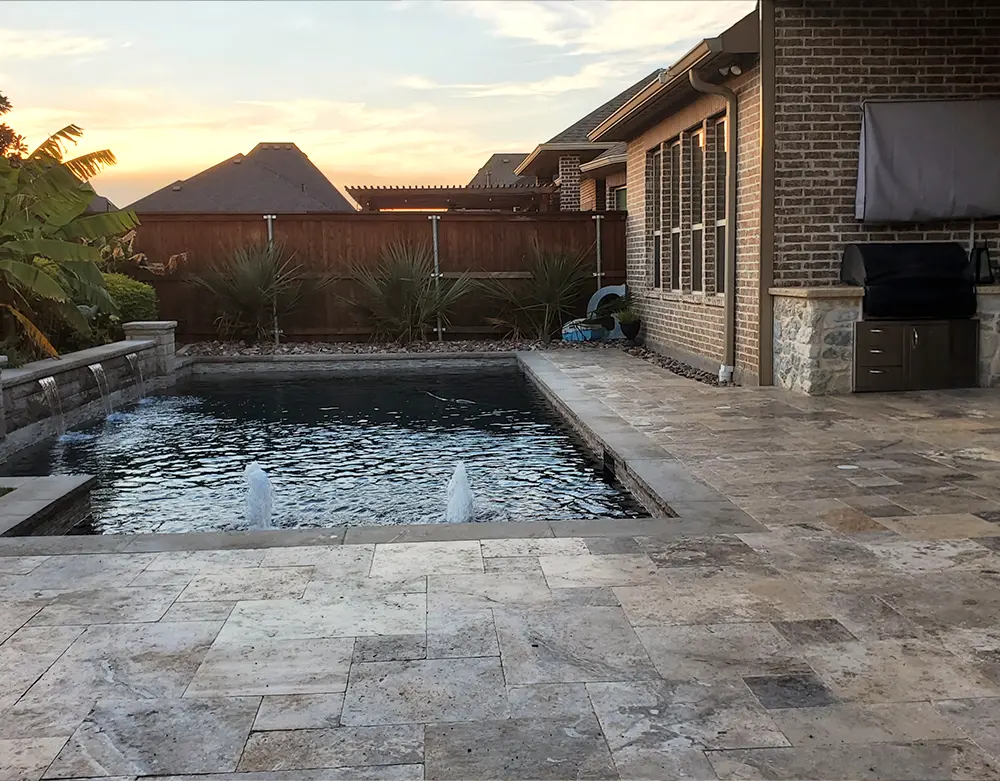 500 Sq. Ft. Travertine Patio Around Pool In McKinney, TX​
This pool paver patio project included:
This pool patio was quoted at $23k, where the travertine upgrade and sealant alone were $7.5k.
* Keep in mind that the numbers above are mere estimates for your patio. Avoid any guesswork and request a free quote!
We've Taken Care Of Everything
At McKinley Construction Management, we handle every aspect of your new paver patio construction, allowing you to sit back, unwind, and witness the transformation of your backyard with a beautiful patio that uplifts your outdoors.
If you're thinking about the cost of building a patio, we've got you covered. Our solutions are cost-effective, ensuring a great return on investment in the long term. Besides, we provide excellent financing options that allow you to finally build your paver patio without draining your bank account all at once.
We take great pride in consistently delivering our projects on time and with a fairly short turnaround time. Our goal is to ensure that you can enjoy your new patio as promised without compromising on quality. Expect to have your patio installed in 5 days tops!
Quality And Affordable Paver Patios From A Pro
We want everyone who steps into your backyard to ask about your patio, so we'll make sure we deliver a spectacular product that backs up our craftsmanship. But besides a lasting and beautiful patio, the process of getting it will be just as beautiful.

Get in touch, and let's discuss what your ideal patio would look like.

After our 3D rendering of your patio, we get to work according to our timeline.

Fire up the grill and start celebrating your new patio!
Boost Your Property's Entertainment Opportunities With A New Patio
Get all the perks of working with skilled and reliable patio installers and enjoy a smooth home improvement service that makes you want to start every project on your bucket list. We're talking about transparent pricing, a seamless process, stunning patios, and a reliable team of workers that make this journey a piece of cake.
Take advantage of a quality service and enjoy the expertise that real pros bring to your project. Call us at (469) 583-6213 or fill out our contact form to get your free pricing quote for your new patio!
Their Bio on how they describe their company is SPOT ON.
They definitely have the body and soul needed to drive excellent customer service. 
From the Second you pick up the phone and chat with one of their outstanding team members… you will breathe deep and say "Whew I am in good hands" – TRUST ME YOU WONT REGRET WORKING WITH THEM, YOUR BODY AND SOUL WILL THANK YOU!
After having a horrible pool builder experience and a lifting pool deck after 2 years, we hired MCM to completely take up our cool deck and lay a new travertine tile surround and it looks amazing!!! 
A cracked skimmer basket was also repaired in the process and my pool has never looked better. 
Thank you so much. We have made several referrals to your company and will continue to let people know what amazing work your team does.
Other services you might be interested in:
McKinney, Texas, is a city steeped in rich history and culture, offering a plethora of landmarks and attractions for both residents and visitors alike.
From the quaint charm of its historic downtown district, loaded with unique shops, dining spots, and the McKinney Performing Arts Center, to the verdant expanses of Heard Natural Science Museum & Wildlife Sanctuary, the city boasts an impressive blend of urban sophistication and natural beauty. Significant landmarks such as the Chestnut Square Historic Village further amplify McKinney's allure, making it a captivating destination in the heart of Texas.