If you're a homeowner passionate about cooking and entertaining, creating the perfect outdoor kitchen space is a dream come true. Picture yourself sizzling mouthwatering steaks on a grill, basking in the warm glow of the setting sun, and sharing unforgettable meals with your loved ones under the open sky. With the right essentials, you can turn this vision into a reality.
In this article, we'll guide you through the top outdoor kitchen essentials that will transform your backyard into a culinary haven. From choosing the right appliances to optimizing your cooking space, we're here to show you what goes into a dream outdoor kitchen.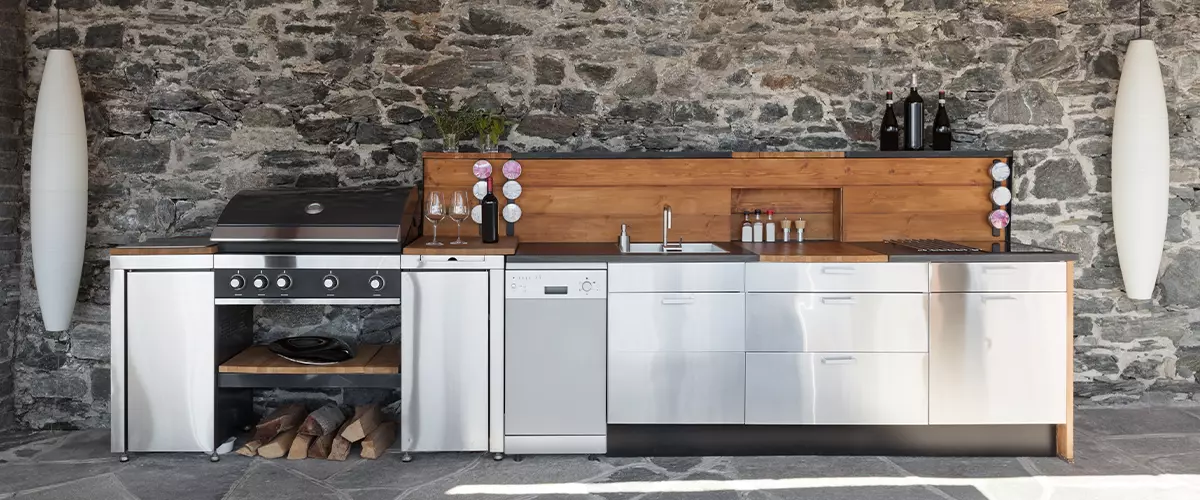 I. Appliances and Cooking Equipment
The right outdoor kitchen appliances are crucial for creating a functional and enjoyable outdoor kitchen. Let's explore the essentials and help you make informed decisions.
Grills, Smokers, and Pizza Ovens
Additional Cooking Equipment and Appliances
II. Countertops and Surfaces
When it comes to outdoor kitchens, the right choice of countertops and surfaces can make all the difference. Let's delve into why durability, weather resistance, and material selection are key considerations for creating a functional and stylish outdoor cooking space.
Importance of Durable and Weather-Resistant Countertops
Your outdoor kitchen will be exposed to the elements, so choosing countertops that can withstand Mother Nature's whims is crucial. Here's why durability and weather resistance matter: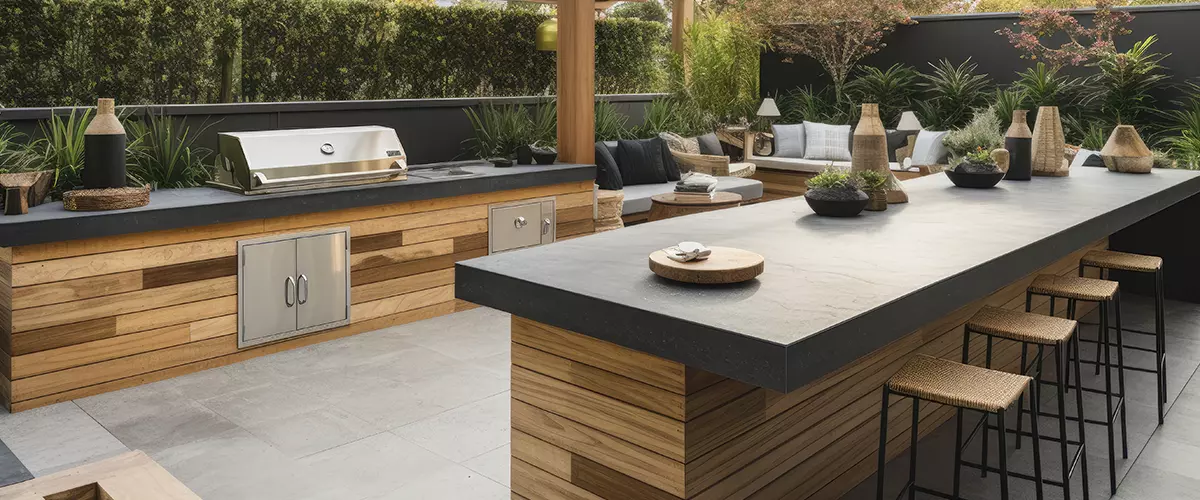 Highlighting Suitable Materials with Pros and Cons
When it comes to outdoor kitchen countertops, several materials excel in both durability and aesthetics. Let's explore some popular options:
Natural Stone (e.g., Soapstone, Slate)
Selecting the Right Countertop Material
To choose the ideal countertop material for your outdoor kitchen, consider the following factors:
Remember, your outdoor kitchen countertops should not only withstand the elements but also enhance the overall appeal of your outdoor space. By carefully considering the pros and cons of each material, you can select a countertop that meets your needs in terms of durability, aesthetics, maintenance, and budget.
Having ample storage space in your outdoor kitchen is essential for keeping everything organized, easily accessible, and protected from the elements. Let's explore different storage options, organization ideas, and tips for choosing weatherproof solutions.
The Importance of Ample Storage Space
Organization Ideas for Outdoor Kitchen Cooking Accessories
Tips for Choosing Weatherproof Storage Solutions
IV. Lighting and Ambiance
Proper lighting in your outdoor kitchen is essential for both functionality and creating the perfect ambiance. Let's explore the significance of lighting, different lighting options, ideas for incorporating fixtures, and additional elements to enhance the cozy atmosphere.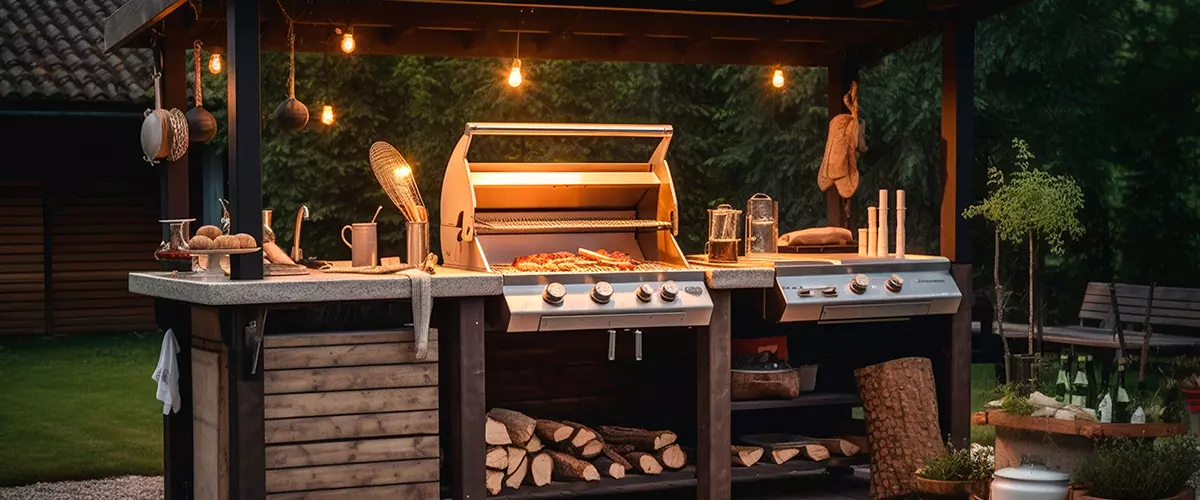 The Benefits of Proper Lighting
Incorporating Lighting Fixtures
Additional Elements for a Cozy Atmosphere
V. Seating and Entertainment Areas
Creating comfortable seating and entertainment areas with proper outdoor furniture is essential for an enjoyable dining and socializing experience. Let's explore different seating options, the importance of comfort, and ideas for integrating entertainment features into your outdoor space.
The Importance of Comfortable Seating
Integrating Entertainment Features
Different Seating Options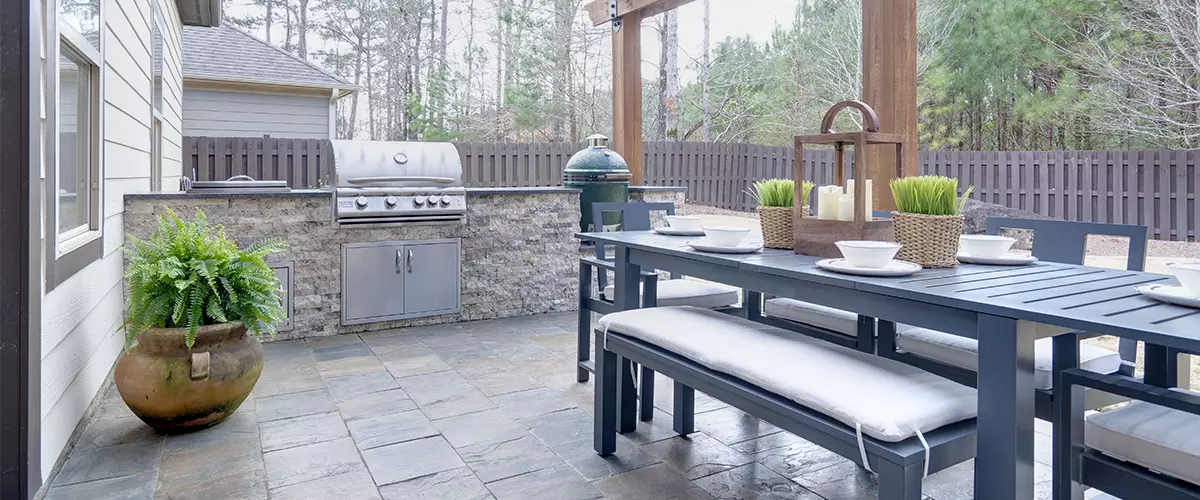 Remember, comfortable seating arrangements and well-integrated entertainment features enhance the overall experience of your outdoor kitchen. Whether you opt for dining sets, bar stools, or lounge areas, prioritize comfort and durability.
The Ultimate Outdoor Kitchen Awaits
Contact our team for the perfect outdoor kitchen that's just waiting to be built by an experienced outdoor space contractor. Send us a message, and we'll look at your space, determine what you need, and create the picture-perfect outdoor kitchen you can enjoy alone or with friends and family.
If you need more information or advice on what's the most practical kitchen improvement project to undertake for your situation, call today at (469) 583-6213 to discuss your project!