The Best Deck Building In Plano, TX
Get a safe, reliable, and beautifully made deck that's sure to entertain your family!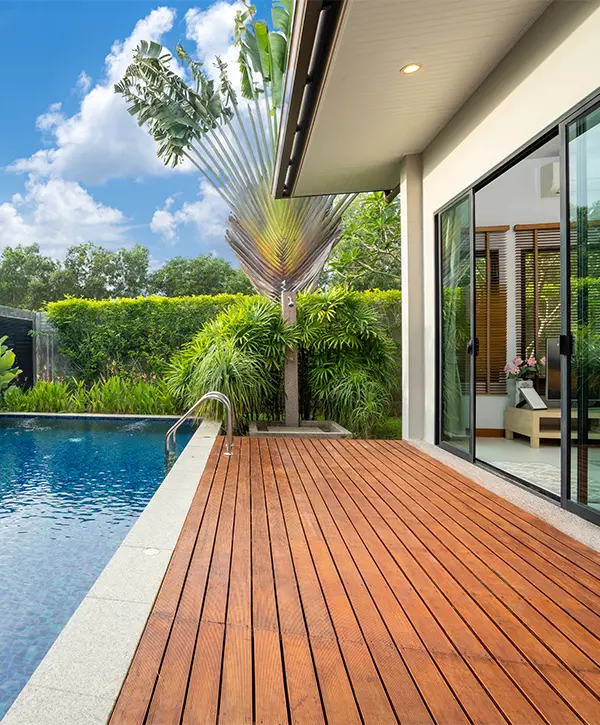 If you need a trustworthy deck-building service in Plano, TX, you've found it.
McKinney Construction Management was founded in 2015 with the objective of designing beautiful and dependable decks where you can unwind with your family and friends.
You can count on us to provide professional and top-notch service from start to finish. Our services include deck design, obtaining permits in Plano, maintenance, and ensuring that it meets your expectations.
A Deck Building Project That Keeps On Giving
Achieve a smooth project flow by utilizing a comprehensive service that handles all aspects of the project.
Deck Building In Plano, TX, With A Local Pro!
Building a deck is a great option to enhance the appearance of your home and increase its value. However, it is important to follow specific guidelines in order to achieve this.
Your deck-building project in Plano, TX, is assured of top-notch execution at McKinney Construction Management. Our team of skilled deck builders will work closely with you to create a customized deck design that perfectly suits your needs and preferences.
We will prioritize your vision throughout the project and ensure the final result reflects it. You will have a safe, beautiful, and spacious deck to host the best outdoor family gatherings and accommodate everyone you care about!
Check out our deck building offer in Plano, TX! Get the best pros in town on your upcoming deck building project and ensure you're getting high quality and professionalism at every step.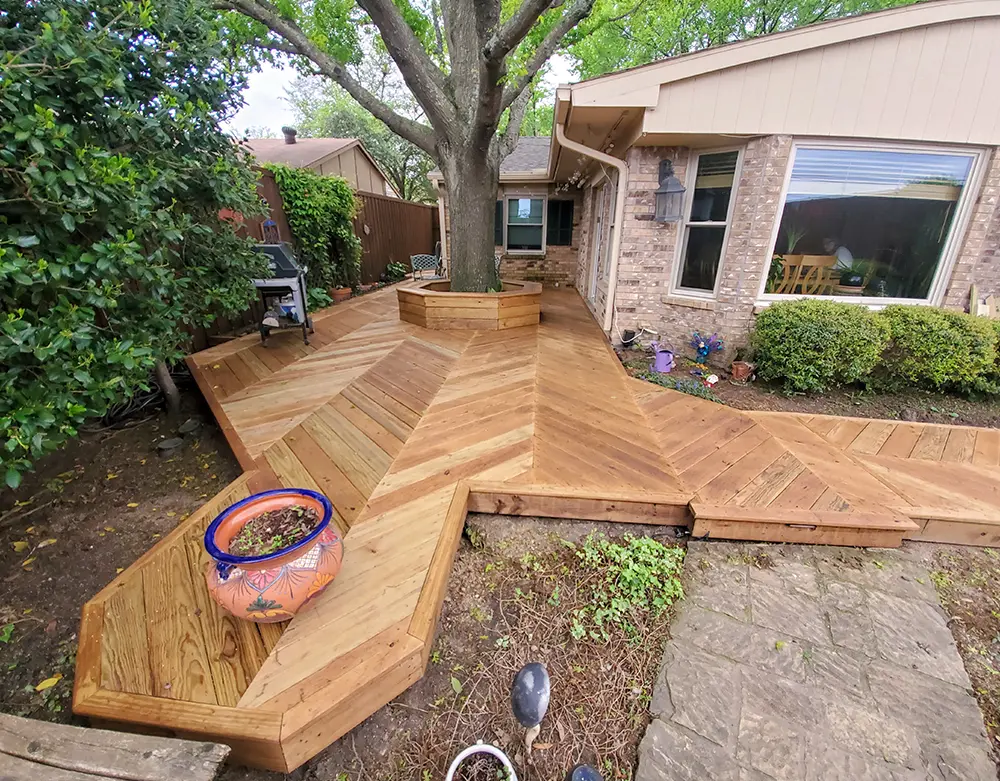 900 sq. ft. Deck Build in Allen, TX
This custom deck building project included:
This deck was quoted at $75k, where the intricacy of the herringbone pattern upgrade alone was $7k.
Our Customers In Plano, TX, Love Their New Decks
We have assisted many homeowners in and around Plano. It is highly likely that we have also constructed something for your neighbors. Here are some comments from individuals who have worked with a high-quality contractor.
It was a pleasure working with Chris and his crew! Chris was always quick to respond and answered any questions I had. He also took the time to research plants that would fit our lifestyle and ones that I would really love, he nailed it! I highly recommend MCM and will use them again!
Cody and Chris with McKinley Construction Management are amazing! They have been a joy to work with though multiple home projects that happened in very short time. They are professional and take a lot of pride in their work. I knew I was in good hands right away. They are so open to the vision for my home and even added their expertise to make the results perfect!
Type Of Upgrades And Materials
If you are planning to build a deck in Plano, TX, there are several materials and upgrades you can choose from. We can give you a detailed list of options during our consultation. For now, though, let's focus on the materials that are most commonly chosen by our clients.
The frame of the deck is the main source of serious issues, as it is responsible for supporting the entire structure. Therefore, it is crucial for the frame to be dependable, long-lasting, and sturdy.
Although Grade 1 pressure-treated lumber is commonly used for deck framing, it will still rot and be susceptible to termite damage over time, even if it is constantly treated, especially if it comes into contact with the ground.
In contrast to wood, metal frames are stronger, more long-lasting, and more dependable. Furthermore, steel doesn't need the regular maintenance and attention that wood does.
If you're looking for a durable deck, we suggest using Fortress Building Products as they have one of the top metal frames available.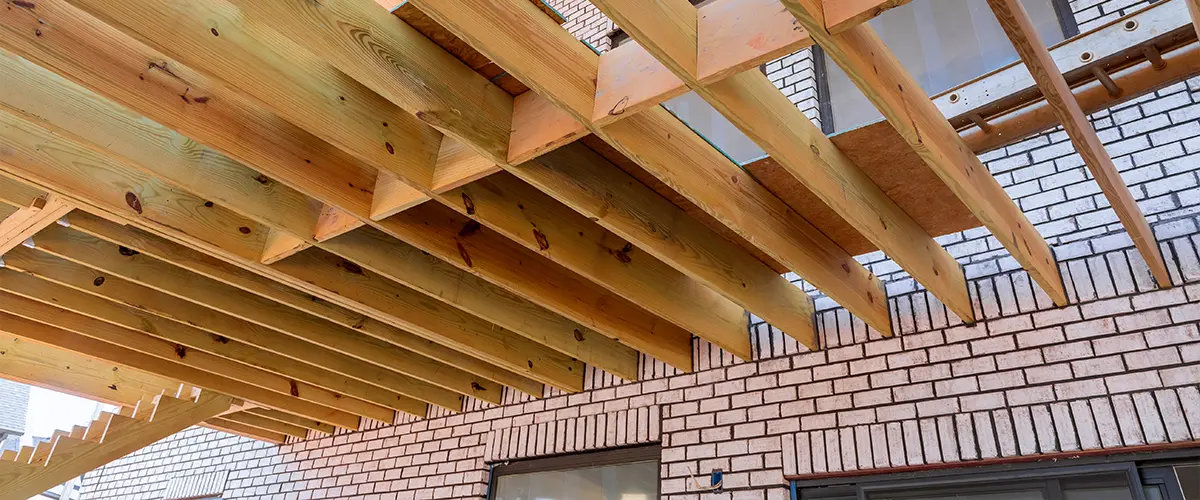 To have an attractive and functional outdoor area, it's crucial to select a deck surface that meets both aesthetic and practical requirements.
If you choose hardwood species like Ipe, Mahogany, Tigerwood, or Redwood for your deck, it will have a more luxurious and natural look. However, they are more expensive than cedar or pressure-treated lumber, which are commonly used.
Choosing composite decking is the most efficient way to save time and money on deck cleaning. It is made of recycled plastics and wood fibers, providing superior strength, durability, and low-maintenance features.
Here at MCM, we work with top brands in the decking industry, like Trex, TimberTech, and Fiberon.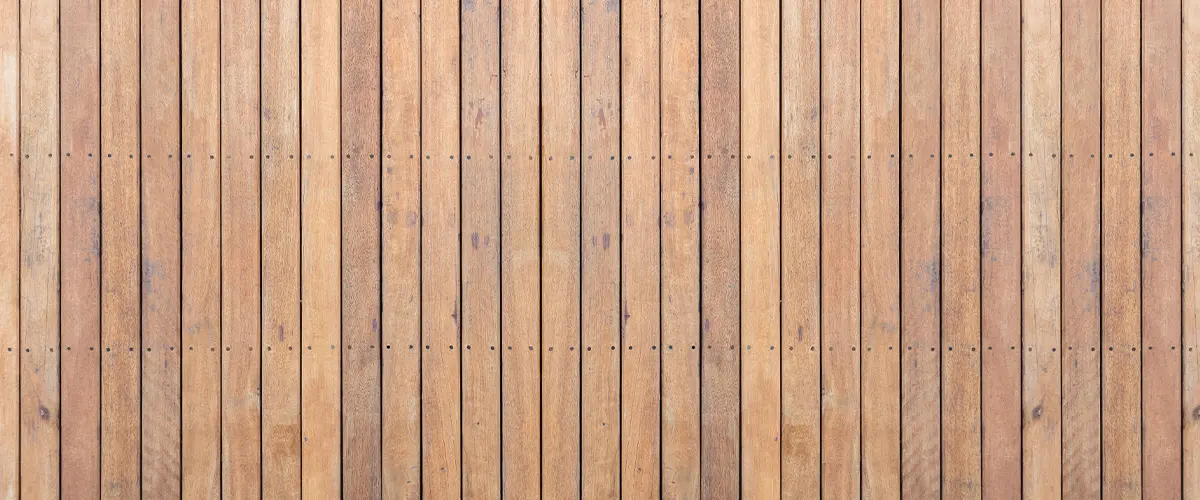 For raised decks, it is necessary to have railings. Railings not only provide both comfort and a strong sense of safety but also complete the look of your deck.
We suggest that our customers consider composite or aluminum railings over traditional wood options. Composite railings are more durable and visually appealing than wood, while aluminum is a premium option.
Westbury Aluminum Railings are a great option for your deck as they are safe and easy to match and add an upscale look to your deck where it appears more expensive than it actually is. Compared to composite and wood rails, they are a better investment.
Having lights on your deck is important for safety and comfort, especially during nighttime. Stair lights, especially those at higher levels, are essential if your deck has stairs.
You have the freedom to choose your preferred lighting. It is advisable to opt for a warm and moderately bright light that allows you to see clearly at night. Low-voltage lights are also suitable for creating a peaceful ambiance in your backyard.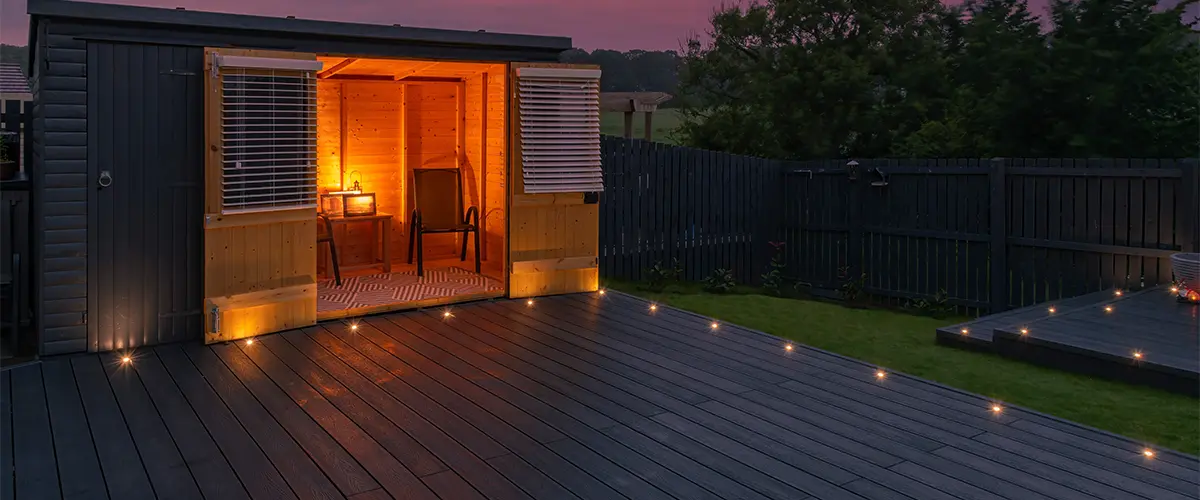 Deck Building In Plano, TX, Made Easy
We understand that working with contractors can be overwhelming, but we have created a stress-free process for you and your family. Starting your deck building project in Plano, TX is made simple and hassle-free with us.

Get in touch, and let's devise a plan!

When everything is ready, we start working!

Your deck is ready to entertain – start enjoying it!
Frequently Asked Questions
The Perfect Time For A Well-Deserved Upgrade
Now is the perfect time to start building your deck in Plano, TX with McKinney Construction Management. We guarantee a seamless experience and top–notch deck construction that is perfect for entertaining your friends.
Our goal is to create a feature that is not only attractive but also secure and dependable. It will enhance your outdoor area and make your backyard the most enjoyable spot on your property.
Besides this, you'll also receive:
The Best Decision For Your Outdoor Space Awaits You