Deck Building in Carrollton, TX
Looking to build a deck in your backyard? We've got you covered.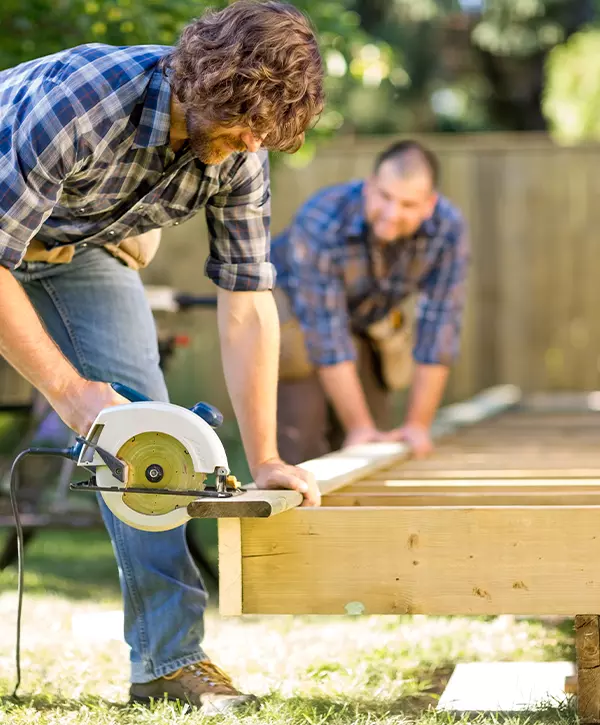 McKinley Construction Management is a premier provider of top-notch decks in Carrollton, TX.
Whether you're looking for a budget-friendly pressure-treated wood deck or a low-maintenance composite deck, we've got the perfect solution for everyone, regardless of lifestyle, preferences, or budget.
We are dedicated to ensuring your safety and delivering long-lasting investments.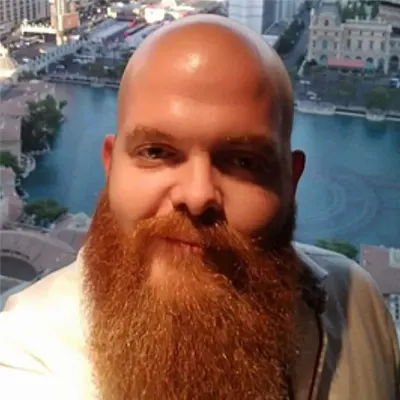 Cody McKinley, owner of McKinley Construction Management
Hi, I'm Cody McKinley, the owner of McKinley Construction Management. I inherited my talent from my dad, and since 2015, I've dedicated it to providing homeowners in the area with a complete and high-quality landscape design service. My brother-in-law, Chris, and I will work with you to come up with the best plan for your outdoor living space, ensuring transparent communication, honest prices, and reliable workmanship.
Enjoy A Deck Building Service That Takes Care Of Everything For You
You will receive a comprehensive deck-building service that will keep you ahead of the game and guarantee your success. Here's what top-tier deck builders bring to your project.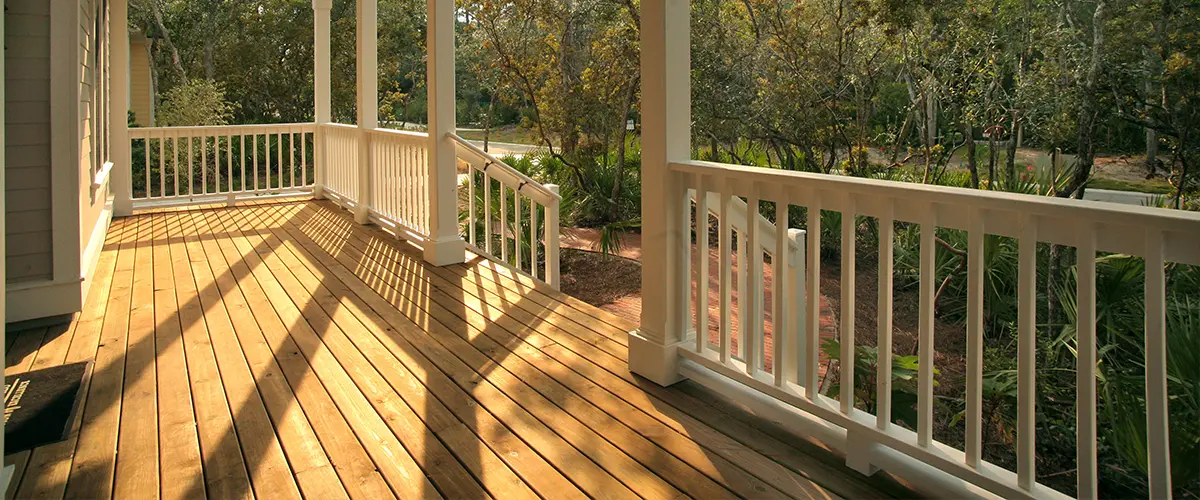 Let's build the perfect outdoor setup with: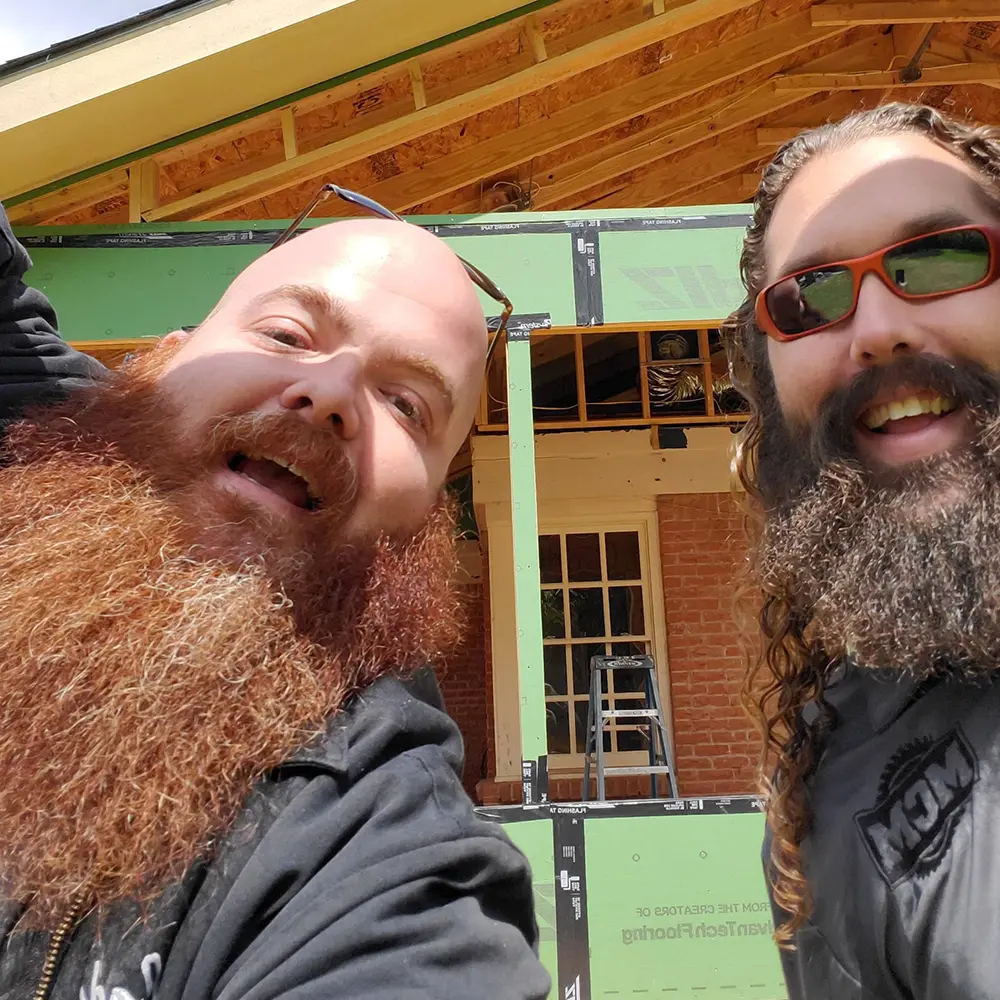 If you're unsure about the deck you want or need more info, give us a call at (469) 583-6213. We'll get back to you within a day. You can also request a free quote, and we'll provide an estimate for your deck building in Carrollton, TX.
See Some Of Our Finished Decks
If you have any doubts about our expertise, check out some of our finished decks and witness firsthand the exceptional level of craftsmanship that awaits you!
People Love A Reliable Deck Builder
Our presence is highly valued by residents throughout Carrollton, TX. Here's what they have to say about their experience working with our experts from McKinley Construction Management.
Cody and Chris were awesome to work with. Constuction was timely on our screened in patio.
Framing, screens, fans, Fans, hung my porch swing it's a beautiful place to hang out. I will call MCM again if I need any additional improvements.
After having a horrible pool builder experience and a lifting pool deck after 2 years, we hired MCM to completely take up our cool deck and lay a new travertine tile surround and it looks amazing!!!
A cracked skimmer basket was also repaired in the process and my pool has never looked better.
Thank you so much. We have made several referrals to your company and will continue to let people know what amazing work your team does.
Deck Building Cost In Carrollton, TX
We have experience working on decks ranging from $20k to $150k. Typically, our pricing is based on the square footage of the project, with deck installations falling within the range of $40 to $60 per square foot. The choice of materials for the decking surface also influences the cost of building a deck.
| Decking Material | Cost per Square Foot Installed |
| --- | --- |
| Pressure-treated pine deck | $21.00 to $24.00 |
| Bamboo deck | $27.00 to $30.00 |
| Cedar deck | $34.00 to $39.00 |
| Composite deck | $40.00 to $42.00 |
| Redwood deck | $45.00 to $49.00 |
| Cumaru deck | $46.00 to $50.00 |
| Massaranduba deck | $49.00 to $52.00 |
| Garapa deck | $45.00 to $49.00 |
| Tigerwood deck | $53.00 to $57.00 |
| Ipe deck | $64.00 to $68.00 |
| Teak deck | $67.00 to $70.00 |
Before
After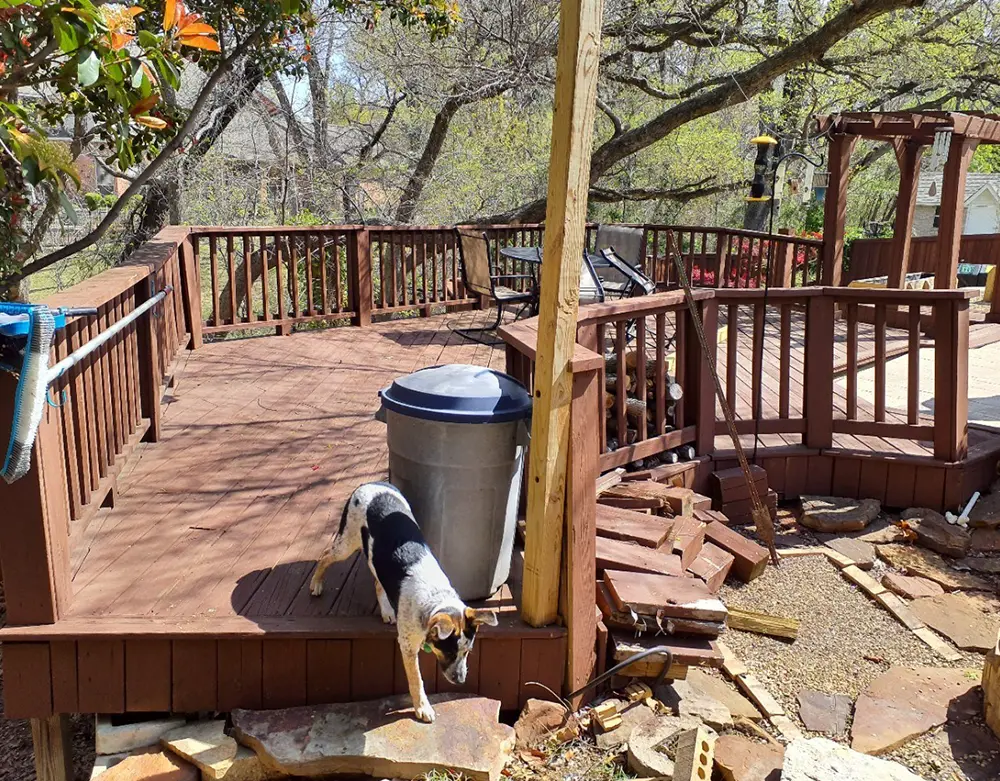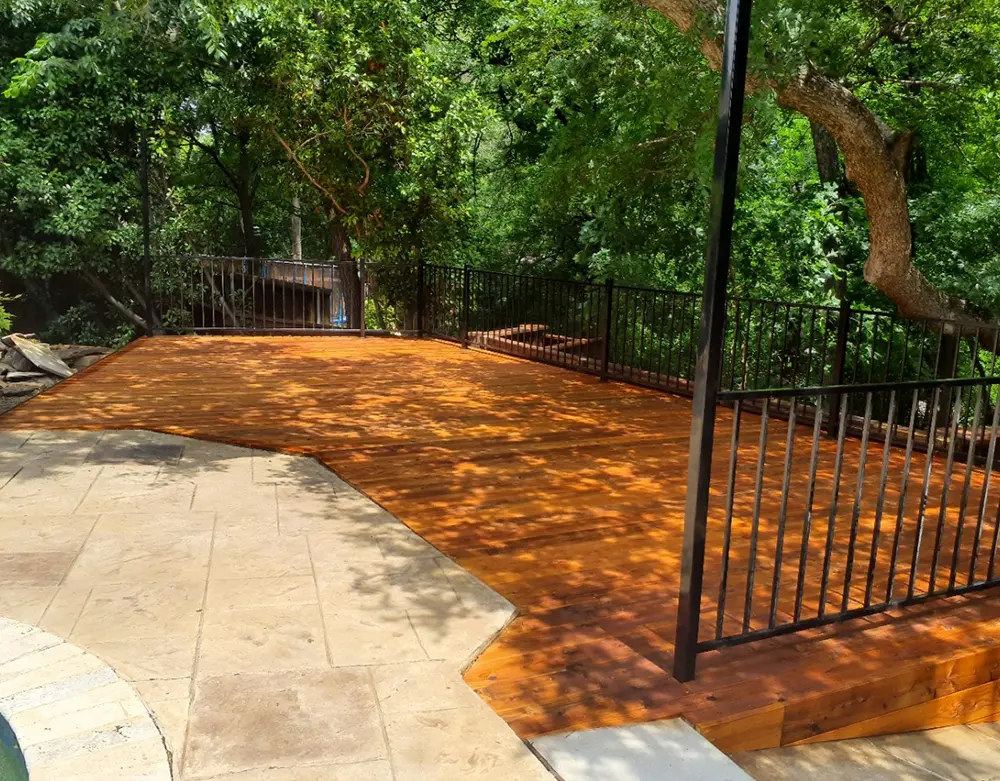 500 sq. ft. Deck Build in Garland, TX
This custom deck building project included:
This deck was quoted at $58k, where the premium cedar deck top material alone was $5k.
*The numbers above are mere estimates. You should also consider labor costs, framing, posts, piers, deck blocks, railings, and any additional features you desire. Don't leave anything to guesswork – request a free quote!
We're Taking Care Of Everything For You!
McKinley Construction Management takes care of everything so you can sit back, relax, and enjoy watching your dream deck come to life.
We provide favorable financing options for your deck-building project in Carrollton, TX, and the surrounding areas. Additionally, we offer cost-effective solutions to maximize your investment and ensure a great return on investment in the long term.
We uphold a strong commitment to timeliness in delivering our projects. Our goal is to ensure that you can enjoy your new deck as promised without compromising its quality. This benefits both parties: you can quickly start using your grill while we can proceed to our next project.
Deck Building With A Real Pro - Made Easy
Experience a deck-building process that prioritizes your well-being and comfort. Our goal is to minimize any disruptions caused by the project, allowing you to embark on a stress-free journey of enjoyment!

Get in touch, and let's discuss what your ideal deck would look like.

After our 3D rendering of your deck, we get to work according to our timeline.

Fire up the grill and start celebrating your new deck!
Work With A Reliable Pro And Boost Your Property's Comfort
Experience the benefits of working with a skilled deck builder and transform any work site into the canvas where your dreams are taking place! Enjoy custom designs, transparent pricing, a seamless process, and a stunning deck that adds charm and value to your property. With MCM, your Carrollton decking project becomes achievable and stress-free.
Take the first step towards your dream deck today – trust our expertise and call us at (469) 583-6213 or fill out our contact form to message us. Let us bring your vision to life with our exceptional services and personalized approach.
McKinley Construction did a fantastic job with our pergola. The quality of the work was excellent, but the best part is they truly care about the customers. Cody will not stop until you are happy and is extremely knowledgeable. Highly Recommend!
Owner Cody and his team of professionals created a Beautiful backyard living space for my wife and I. Complete with a brand new slab patio, pergola and stone fire pit. They did an amazing job and provided excellent customer service.
Other services you might be interested in:
Carrollton, Texas, is a vibrant city full of unique attractions and experiences. With its scenic, historic downtown district, family-friendly attractions like Heard Natural Science Museum & Wildlife Sanctuary, and outdoor activities such as hiking, biking, and kayaking in nearby Clear Lake Park, there's something for everyone to enjoy. For those looking for some historical inspiration, the Collin County Historical Museum offers an extensive collection of artifacts and exhibits to explore.