Outdoor Kitchens In Lewisville, TX
Want to cook outside more? Outdoor kitchens are the perfect reason to bring your friends over!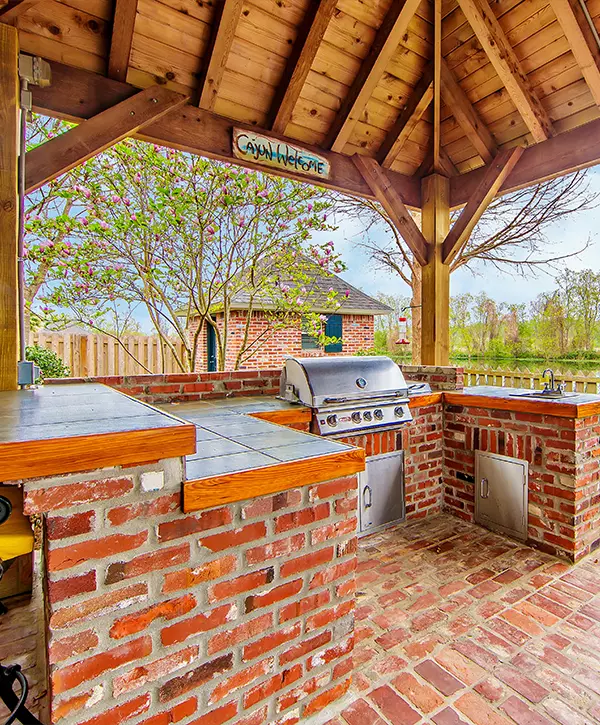 Outdoor cooking is truly a delightful experience that brings immense pleasure.
Whether it's a sizzling barbecue, a tasty homemade pizza, or just a salad you want to enjoy in the great outdoors, cooking and eating outside in an outdoor kitchen makes this part of the day so much more enjoyable.
Here at MCM, we've built over 70 outdoor kitchens in Lewisville and its surroundings, so we know everything about these spaces, inside and out.
We're a local and trusted outdoor remodeling expert that now only has the knowledge to build you a spectacular outdoor kitchen but also make the entire process flow seamlessly.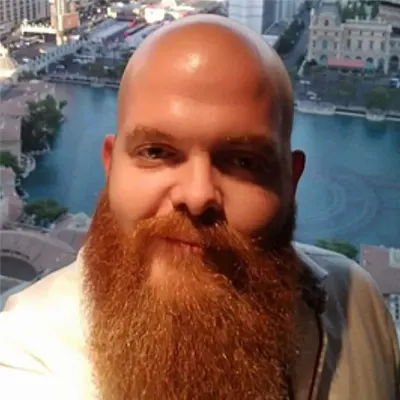 Cody McKinley, owner of McKinley Construction Management
I'm Cody McKinley, owner of McKinley Construction Management. Whether it's playing a game, enjoying a barbeque, or catching up with friends, I'm here to help you with an outdoor living space that will improve your family's life. There's no project I love more than designing and building outdoor living spaces. I can't wait to help you with yours!
The Best Outdoor Kitchen Service In Lewisville
Get ready to elevate your outdoor kitchen to new heights of efficiency, comfort, and functionality. MCM stands apart from other contractors by offering perks that no one else in the area offers.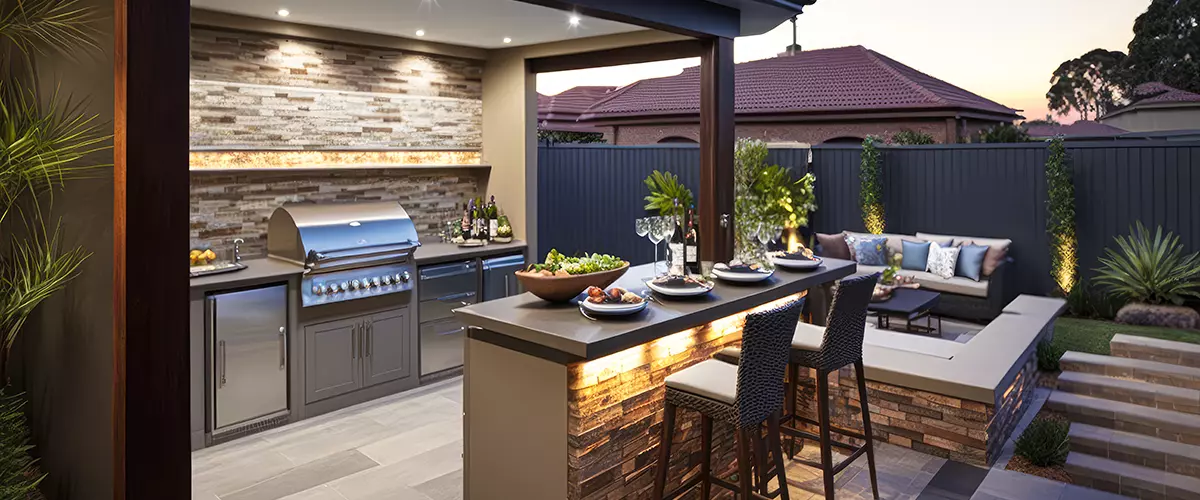 Let's build the perfect outdoor setup with:
Check Out Our Portfolio And Get Some Inspiration!
Our portfolio showcases our attention to detail and our level of expertise. Regardless of the size and complexity of your project, we'll get it done for you, just like we did with these other projects!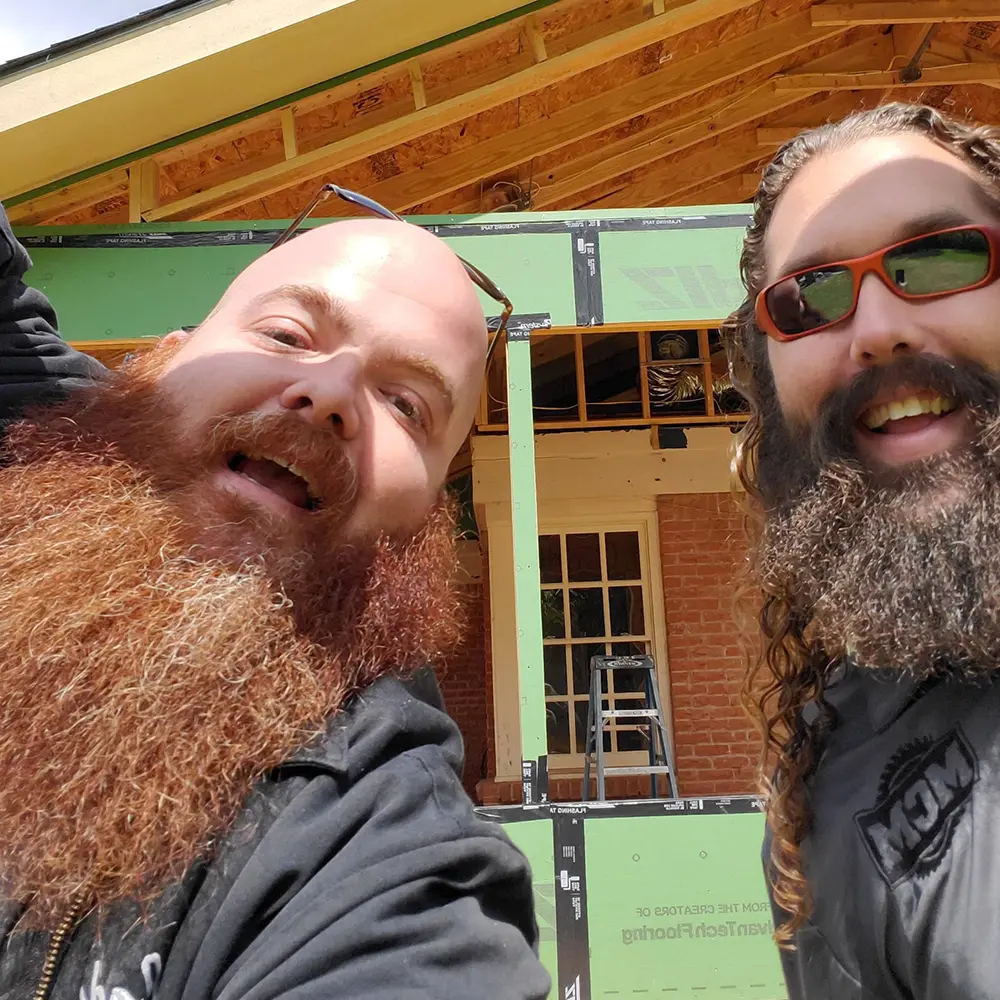 Ready to get your new outdoor kitchen project started? Take the first step towards it and request a free pricing quote. Simply fill out a quick form or call us directly at (469) 583-6213 to discuss your upcoming project.
Your Neighbors Loved Working With Professionals
We take pride in the positive feedback we receive from our clients. It reflects their satisfaction, our craftsmanship, and how well our service is structured. Here's what people say about us…
Their Bio on how they describe their company is SPOT ON.
They definitely have the body and soul needed to drive excellent customer service. 
From the Second you pick up the phone and chat with one of their outstanding team members… you will breathe deep and say "Whew I am in good hands" – TRUST ME YOU WONT REGRET WORKING WITH THEM, YOUR BODY AND SOUL WILL THANK YOU!
After having a horrible pool builder experience and a lifting pool deck after 2 years, we hired MCM to completely take up our cool deck and lay a new travertine tile surround and it looks amazing!!! 
A cracked skimmer basket was also repaired in the process and my pool has never looked better. 
Thank you so much. We have made several referrals to your company and will continue to let people know what amazing work your team does.
Outdoor Living Spaces Cost In Lewisville, TX
Our outdoor kitchen projects typically begin at approximately $13k to $15k. However, it is important to keep in mind that the final cost will vary based on your specific needs and preferences.
Before
After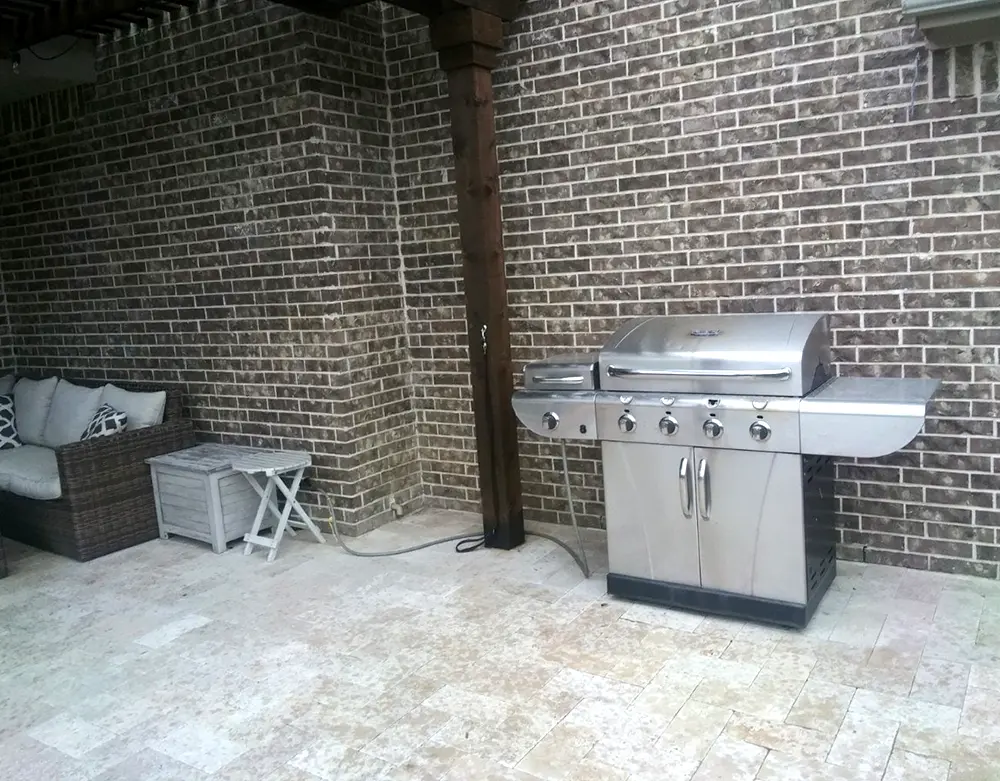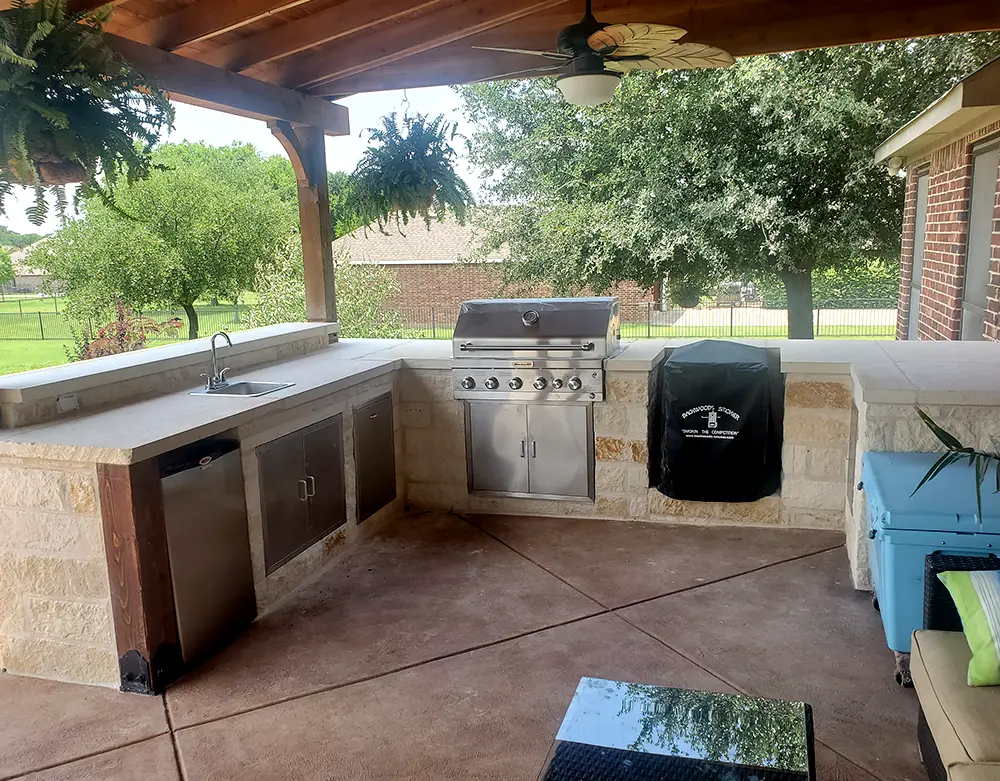 23 Ft. Long Patio & Outdoor Kitchen In McKinney, TX
This outdoor kitchen project included:
The project was quoted at $23k, where the bar top addon and sink for the wet bar alone were $11k.
| Feature | Average Cost |
| --- | --- |
| Appliances | between $2k and $8k for a grill and a fridge |
| Frame | $250 to $475 per linear foot |
| Cabinetry | $15 – $25 per square foot |
| Countertops | $65 – $75 / sq. ft. for quartz countertops |
| Flooring | $8 - $20 / sq. ft. for brick pavers |
| Pergola | $35 - $65 / sq. ft. |
| Outdoor Lighting | $2,000 – $5,000 for 20 - 40 light fixtures |
*Note that the prices of outdoor kitchens may differ based on various factors, including labor fees, material costs, ground preparation, and job site accessibility. To obtain a more precise pricing estimate, we encourage you to get in touch with us.
We're Taking Care Of Everything For You!
Designing and constructing an outdoor kitchen is a complex undertaking that requires expertise and attention to detail. Homeowners have two primary considerations when pursuing this upgrade.
No matter your budget, we can create a tailored solution that aligns with both your financial constraints and timeline. In addition, you'll have access to beneficial financing options, allowing you to manage your expenses more effectively and avoid depleting your budget all at once.
Rest assured, we are committed to adhering to our timeline without fail. In the event of any unforeseen circumstances, we will promptly communicate with you in advance, allowing us to plan accordingly and address any potential issues, ensuring a seamless experience for you. Be assured that you will receive your promised outdoor kitchen as anticipated. There's no need to worry about it!
Outdoor Living Space Design And Built - With None Of The Stress!
Our process is meticulously designed to prioritize your comfort and deliver unwavering support throughout the upgrade, all with one goal in mind: to guarantee an experience that is nothing less than truly enjoyable.

Get in touch with us, and let's partner up to design an outdoor space that matches your vision!

As soon as you've decided on the materials, we get to work according to our schedule.

Your outdoor space is ready! Fire up the grill and invite people over for the best steak they'll ever eat!
Get A High-Quality Outdoor Living Space From Your Local Pro
Imagine an outdoor haven, complete with a fully-equipped kitchen, where you can unwind with your friends and savor some ribs and a refreshing beverage over the Longhorns game.
We know it sounds great because we've done it too. The best part is that now, we're here to help you achieve the same result with your outdoor kitchen and take it to the next level of functionality and comfort.
If you're ready to make this investment and start enjoying cooking outdoors, give us a ring at (469) 583-6213 or request a free quote from the button below!
Really enjoyed doing business with Ronnie at MCM, whenever a question would arise Ronnie would take care of it quickly and professionally at the best of his ability. Our backyard looks great what we asked for and couldn't be more pleased with the quality.
These guys do a great job! They are fair, dependable and creative. I had a basic idea of what I wanted and they improved upon my idea. 
 They were flexible with minor changes and my crazy schedule. Definitely will use them again and recommend them to friends and family.
Other services you might be interested in...
Lewisville, TX, is a vibrant city known for its diverse culture and natural beauty. It features a variety of landmarks and attractions, such as the charming Old Town Lewisville – a hub for local dining, shopping, and arts. The city is also home to the stunning Lewisville Lake, a popular spot for water-based activities like boating and fishing.
For nature enthusiasts, the LLELA Nature Preserve is a must-visit with its numerous hiking trails and wildlife observation areas. Not to forget, the MCL Grand Theater showcases an array of performances, making Lewisville a captivating place for both residents and visitors.